CONSUMER DATA APPEND
Affordable Data Append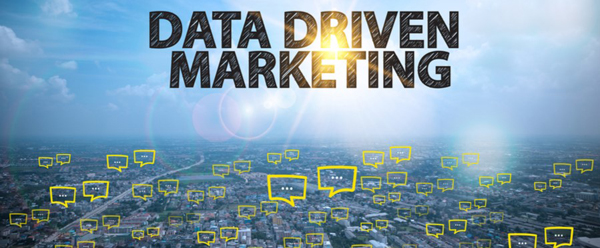 DATA APPEND FUELS DATA DRIVEN MARKETING: Demographic and psychographic data appends provide the fuel for any data driven marketing campaign. A simple data append can provide valuable insights about customers / inquirers … insights which will optimize segmentation and personalization of all marketing campaigns … thus results!
HOW IS OUR DATA APPEND DIFFERENT? One major difference is cost. Our research shows that most data append companies are charging hefty fees for simple data appends. We keep our data append cost low partly due to scale of operation … a significant number of data append jobs create significant cost savings (economies of scale, Walmart model) … low cost but high quantity of data append jobs. Complete below Info Request Form or give us a call and you'll happily receive a reasonable data append quote.
WHAT IS REQUIRED FOR A DATA APPEND: For optimal data append results, simply send us the contact name + postal address. However, if you only have an email address – then this will also work as with a reverse email append we can acquire the contact name + postal address for about 70% of your records. Landline or mobile phone data also applicable for a data append purchase …. though data append match rates are below average.
DATA APPEND WITH A PROFILE ANALYSIS: With a consumer data append purchase you may also receive a Profile Data Analysis … which will provide a performance rating for the data append variables.
WHAT DATA CAN DMDATABASES APPEND? Here's a small example: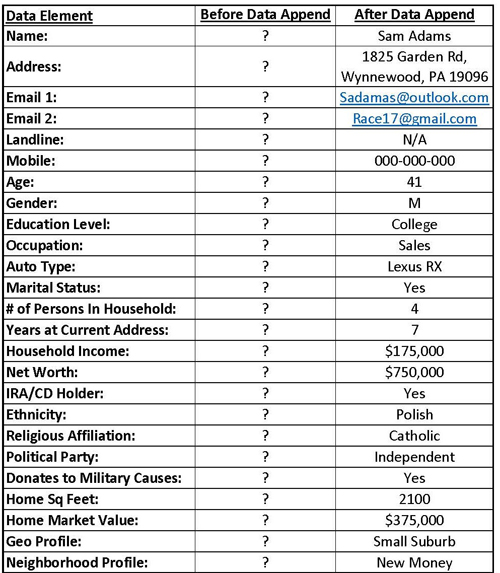 FINANCIAL DATA APPEND
Cardholder - AMX
Cardholder - Premium Gold
Cardholder - T&E
Cardholder - Upscale Dept Store
Discretionary Income Score
Education Loan Holder
Heavy Transactors (uses cards 20+ times per month)
Income
Income Product Assets
Net Worth
Number of Investment Properties Own
Own CD / Money Market Fund
Own IRA
Own Life Insurance Policy
Own Mutual Fund
Own Stocks
Own Vacation Property
MODELED FICO SCORE DATA APPEND
Due to FCRA (Fair Credit Reporting Act) it is practically impossible and highly expensive to append actual FICO scores to your database, thus as a viable alternative we offer modeled FICO score data appending. Extensive testing shows that the credit score appends closely resemble actual FICO scores. The algorithm for computing the FICO append scores begin with collecting actual credit data from the three credit bureaus for all households at the block level. Next, we combine the credit bureau data mortgage deed data, tax assessor's data, past buying history, and hundreds of demographic and lifestyle variables from our master consumer database … at the individual level. CLICK HERE for more insights about the modeled FICO append scores.
INDIVIDUAL DEMOGRAPHIC DATA APPEND
Education Level
Ethnicity
Exact Age (Birth Month, Day, Year)
Gender
Marital Status
Occupation
Race
Religious Affiliation
Single Parent
Social Media User Type (Facebook, Twitter, Pinterest, Instagram)
Veteran
Work/Occupation Job Title (Business Owner, President, VP, Senior Executive
POLITICAL PARTY DATA APPEND
Conservative
Democrat
Green
Independence
Independent
Liberal
Libertarian
Non-Declared
Other
Party Unknown
Reform
Republican
DONOR - CHARITABLE TYPE DATA APPEND
Active Military
Alzheimer's
Animal Welfare
Arts or Cultural
Cancer
Catholic
Children
Humanitarian
Native American
Other Religious
Political Conservative
Political Liberal
Veteran
Wildlife/Environmental Causes
World Relief
HOUSEHOLD DATA APPEND
Age of Children in Household
Cat in Household
Dog in Household
Dominant Language Spoken in Household
Elderly Parent in Household
Number of Children in Household
Years at Address
Young Adult in Household
PROPERTY DATA APPEND
Available Home Equity Amount
Est Home Insurance Expiration Date
Highrise - # of Units in Building
Home Market Value
Home Square Footage
Located on Golf Course, Water, Mountains
Lot Size (Acres)
Occupied Homeowner or Renter
Pool
Property Type (SFD, Condo, ondo, Duplex, Triplex, Quad, Apartment, Mobile Home, Penthouse, Vacant Land, Farm/Ranch, Cooperative)
Structure Details (# of bedrooms, bathrooms, fireplaces, stories)
Year Built
Subdivision Name
Roof Type
LOAN DATA APPEND
All Cash Purchase
Investment Type (Private Party Lender, Seller Carry Back)
Loan Amount
Loan Interest Rate
Loan Interest Rate Type (Fixed / Variable)
Loan Purchase Date
Loan to Value Ratio
Mortgage Down Payment Percent
Name of Lender
Number of Mortgage Loans
Quit Claim Deed
Refinance Date
ONLINE PURCHASE TYPES DATA APPEND
Apparel
Children Products
Gardening
Highend Appliance
Membership Club
Musical Instrument
Art
AUTO DATA APPEND:
Auto data enhancement may include Vehicle Make, Model, Year, VIN#, Fuel Type. CLICK HERE to review our Master Automotive Database.
BOAT DATA APPEND:
Boat data enhance may include boat Make, Model, Engine Type, Boat Length. CLICK HERE to review our Master Boat Owner Database.
HEALTH / MEDICAL / AILMENT DATA APPEND
*many data options - CLICK HERE
LIFESTYLE DATA APPEND: CLICK HERE to review lifestyle / psychographic data append options.
POPULATION DENSITY DATA APPEND
Very Rural areas - HHs/sq mile less than 25
Rural areas - HHs/sq mile 25 - 82
Smaller Suburb or Towns 83 -253
Smaller Suburb or Towns 254 - 588
Smaller Suburb or Towns 589 - 1,015
City and Surrounds 1,016 - 1,518
City and Surrounds 1,519 - 2,127
City and Surrounds 2,128 - 3,015
City and Surrounds 3,016 - 3,825
City and Surrounds 3,826 - 5,440
Downtown Metro - HHs/sq mile 5,441 - 9,448
Very Urban - HHs/sq mile greater than 9,448
OTHER CUSTOM DATA APPENDS
Neighborhood Type
Type of Address (Highrise, PO Box, Rural Route, Street)