CAR OWNER MAILING LISTS – CAR OWNER EMAIL LISTS
Automotive Owners Marketing Lists with Enhanced Automotive Filtering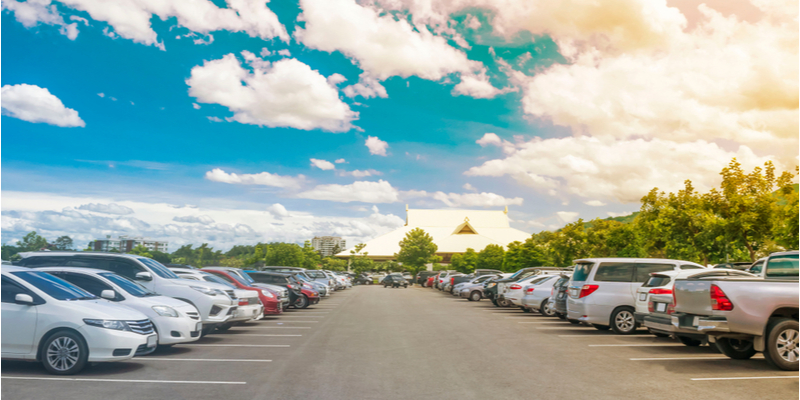 The Premier Automotive Owners Database represents the largest car owner database on the market … any Make/Model … we very likely have the greater number of auto leads!  The auto owner list also offers many vehicle centric filters (Make, Model, Year, Fuel Type, VIN#, etc) to help pinpoint your optimal car owner leads.  To further qualify your car owner marketing list there is an extensive array of demographic and psychographic filtering options. And after you have customized your automotive owner marketing list, you then have multiple marketing applications:  direct mail, email marketing, digital ads, mobile marketing.  Topped it all off, your car owner marketing list purchase comes with a detailed "money-refund" data accuracy guarantee … type of guarantee that very few auto data sellers provide.  Keep reading to learn more about the Premier Automotive Owners Marketing Database … compiled from 30+ years of building alliances with a long list of automotive data contributors - sources!
---
AUTOMOTIVE OWNERS MARKETING LIST APPLICATIONS
Email Campaign to Car Owners Marketing Lists: We will email blast your offer to your car owner marketing list with a guaranteed email open rate (assuming offer/creative is approved). And after the email campaign to your automotive owner email list, you have the option of receiving an email list of the car owner email recipients that Opened your email message … huge benefit since many of the automotive owners that opened your email message can be converted into a customer with a just few more email offers.
Car Owner Email List:   We can also provide the automotive owner email list if you wish to execute and control your own car owner email campaign.  And note that our car owner email lists have a 90+ percent accuracy rate or "money-refund!"  Of course, one major advantage of buying an automotive owner email list is the unlimited usage benefit … the option to test multiple offers, subject lines, creatives, etc.
Digital Ad Campaign to Automotive Owners Marketing List: We will serve digital banner ads to your qualified car owner leads.  When your qualified car owner leads are surfing the web from their home network, your ad will appear on many of the websites that the automotive owner leads are viewing.  And to reiterate – the digital ads are only served to the households with your specific car owners … by Make, Model, Year and other automotive filters that you use.  Along with display ad clicks, this low-cost digital campaign is also a sure way to boost direct mail list results and email open rates! 
Facebook Ads to Car Owners Email List:  Along with email marketing – you can use our automotive email list to reach the same "qualified" automotive owner leads on Facebook. We emphasize the "qualified" word because the Facebook platform doesn't offer the extensive array of qualification filters for pinpointing your optimal car owner marketing leads.
Car Owner Mailing Lists:  Unlike digital ad mediums (Google ad words, Google Search, Facebook, etc), direct mail offers a guaranteed way to get your brand/offer in front of qualified automotive owner leads.  With direct mail your offer will not have to compete against countless other competitive offers … with direct mail you have the undivided attention of your diabetic leads.  And unlike the digital route – direct mail guarantees optimal market coverage for your specific car owner leads.  And sure, direct mail can be expensive, but if your customers have a large LTV then direct mail will easily provide a multiple ROI.  And to help boost results from your automotive owners mailing list – we can execute multiple digital ad campaigns in conjunction with the direct mail drop … synchronized campaigns will for sure boost your direct mail results. 
CAR OWNER LIST WITH DEMOGRAPHICS / LIFESTYLE DATA = MORE CARS SOLD
Just using the usual car owner list selects (model, make, etc) is not the best automotive direct mail list strategy. To maximize ROI … car dealers have to combine auto data with demographic / lifestyle data. Age, income, net worth, credit score, marital status, gender, children, education, lifestyle (golfer, boat owner, foreign traveler, etc) … all of these auto list qualifiers … and more … WILL generate the maximum number of auto leads … at the lowest cost per lead.  CLICK HERE to review other automotive mailing list filters.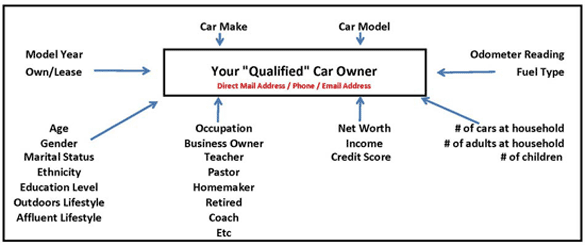 SOURCES FOR AUTOMOBILE OWNER MARKETING LISTS
Auto vehicle mailing list is compiled from auto warranties, auto service centers, auto dealerships, car manufacturers, on-line info request for auto insurance, automotive products, gasoline credit card offers, auto service centers, self-reported surveys, auto clubs, and many other auto list niche sources.
QUALITY/ACCURATE AUTOMOTIVE MARKETING LISTS
Our very extensive number of auto list sources allows us to offer you accurate auto list data. Every single day a massive amount of auto data is fed into the pipeline, so if Jim sold his Cadillac last month then we know it; not going to indicate that Jim is a Cadillac owner if he sold his Cadillac 12 months ago.
CAR OWNER MARKETING LIST DELIVERABLE GUARANTEE
For your automotive list we guarantee a 95% deliverable rate … or money refund! We can offer the best guarantee because every single automotive direct mail address is verified on a monthly basis.  CLICK HERE to learn why our car owner email lists offers you the best money-refund data accuracy guarantee in the industry. 
AUTOMOTIVE OWNERS MARKETING LISTS EXPERIENCE
For over three decades DMdatabases has been providing automotive lists. Campaign after campaign … we've seen which automotive direct mail list strategies work … and those that don't. We have seen first hand how the slightest tweak in an automotive email list selection can double an OPEN rate. We've seen the exponential power in combining demographics with automotive list qua lifers. Call our automotive list team today and lets us share our experience. 
FILTERS FOR AUTOMOTIVE EMAIL LISTS - CAR OWNER LEADS
Common Car Owner Email List - Car Owner Mailing List Filters:  Make, Model, Year
Vehicle Preference: Create an automotive direct mail list consisting of people that have a high propensity for specific type vehicles
Vehicles in Household:  Number of Vehicles in Household, Number of Drivers in Household
Auto Loan Remaining Months: Create vehicle direct mail list based on months remaining on auto loan / auto lease.
Fuel Type: Create car owner list by fuel type: methanol gas, hybrid engine, natural gas, diesel, electric, flexible fuel, gas, ethanol fuel.
Auto Drive Type: Create your car owner list by auto drive type: 4WD, 4X2, 4X4, AWD, FWD, RWD
Automotive Class: Create an automotive email list by car classification: Full size van, minivan, small truck, midsize truck, midsize car, full size truck, sedan 4dr, Small SUV, Small car, Full size SUV, Full size Car
Automotive Style: Create an auto list by automotive style: Convertible, Coupe, Hatchback, Luxury, Pickup, Sedan, Sport, Utility, Van, Wagon
Auto Engine Type: Engine Block Type, Engine Cylinders, Engine Size, NHTSA Recall Leads
Other car list selections:  Odometer Reading, Purchase Date, Title Date Own/Lease 
SELECT AUTOMOTIVE OWNER LEADS BY CREDIT SCORE
Actual FICO or Beacon Score
Modeled FICO or Beacon Score
FICO AUTO SCORE (Very similar to FICO Score but with more weight given to auto trades)
DEROGATORY CREDIT INDICATORS (repossessions, bankruptcies, 30+ days past due indicator, etc). 
AUTOMOTIVE OWNER EMAIL LISTS – MAILING LIST EXAMPLES
7 Series BMW Car Owners (over 150,000 names; great direct mail list for high-end offers)
Convertible Car Owners (over 7,000,000; this group can be a good travel list – travel offers)
Highly Affluent Automotive Owners (Net Worth $2,000,000+)
Mercedes Benz Car Owners (over 2,000,000; great mailing list for high-end offers)
Households with 4+ vehicles
Young Affluent Car Owners (Income $250,000+)
Truck Owners of 1 ton Trucks (over 1,000,000 names)
RV Owners
Small Truck Drivers
Spanish Speaking Car Owner Email List (send an email offer in Spanish) 
NICHE CAR OWNER MARKETING LISTS – VEHICLE OWNER LISTS
ACME Discount Parts & Accessories Catalog Buyers – for Jeep (Over 190,000)
ASE Certified Auto Mechanics
Automotive Hot Leads … consumers who have applied for an auto loan in the past 24 hours.
Automotive Owners that do their own auto mechanical repairs
Big Tractor Truck Drivers
Car Craft Magazine Subscribers
Car owners by lease expiration date (title date, lease date, loan inception, make, etc)
Car owners whose auto insurance is about to expire.
Commercial Drivers (CDLs)
Foreign Car owner list
Four Wheeler Magazine Subscribers
Hot Rod Magazine Subscribers (over 500,000)
Kwik Lube Car Owners List
Limousine Drivers
NASCAR Enthusiasts (Over 3,000,000 / auto email list over 1,500,000)
New Parents / Expectant Parents – Upgrade to family car
Passionate fans of auto racing
Subscribers to Car & Driver Magazine
Van Owners that use van for business.
Vintage Car Owners
Boat Owners (this lifestyle gives idea of car owner's vehicle type)
AUTO LEASE MARKETING LEADS
Active Auto Lease
Automotive Lease Expiration Date, YYYYMM
Vehicle Lease Expiration Leads available with email data
Lease Multiple Sources
Vehicle Title Lease Placer
CAR BUYER LEADS – IN THE MARKET CAR LEADS
These auto buyer leads … also known as "in-the-market auto leads" consist of people that have recently visited an automotive dealership and/or have indicated on a self-report survey an interest in buying a car within the next 30-60 days. These car buyer email leads are selectable by an array of demographics (age, marital status, # of cars in households, # of drivers in household, income, and much more).
New Car
Used Car
Used Car 0 to 5 Years
Used Car 6 to 10 Years
Used Car 11+ Years
*VW MAILING LIST – VW EMAIL LIST
The largest database compilation of VW Auto Owners
All VW TDI Models: VW Jettas, Beetles, Golfs, Passat, and Audi
Email List also available for VW Car Owners
All VW auto lists may be segmented by make, model, year, fuel type, and many demographics.
TOP SELLING AUTO OWNER LEADS
Cars with 200,000+ miles: 3MM
Cars with 100,000+ miles: 18,000,000+
Antique cars: 60,000
Electric car leads:  CLICK HERE 
Plug-in Hybrid car leads:  CLICK HERE
Seniors that drive convertibles: 2,000,000
RV Owners: 10,000,000
Pickup Truck Owners: 26,000,000
Households with 3+ cars: 18,000,000
*Auto leads with email address, direct mail address, and phone.