EMAIL VERIFICATION
98% email list accuracy or money-refund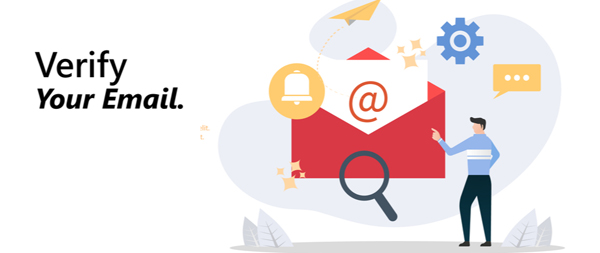 "OUR EMAIL VERIFICATION HISTORY: DMDatabases started some 35+ years ago … making us one of the oldest data aggregators in the industry. During these 35+ years we have become a leading provider of business email leads and consumer email leads, so without a doubt we know email data … as email experts we have the experience power, brain power, and processing power for identifying good emails and bad email addresses … which explains how we can offer the best email validation guarantee!
WHY EMAIL VERIFICATION:  With our extensive experience with email lists, we confidently attest that the average annual attrition rate for email addresses is about 25% … and this attrition rate is even higher for passive email addresses … the type of emails that people rarely check. This 25% translates to about 2% per month which on the surface seems small thus some will conclude that at least 98% of my customers and inquires will receive my email message; this is the wrong logic because a 2% bounce rate is enough to damage your IP sending address and/or have your outside email blasting vendor close your account.
EMAIL VALIDATION SERVICE INCLUDES:
1) Good Email Address Identification – Safe to Send!
2) Mole, Honeypot, Spam-Trap Identification
3) Invalid Email Address Identification
4) Long-Term Non-Responsive Email Address Identification
5) "Catch-All" Email Address Identification
6) Third Party Oversight "Seed" Emails
7) Non-Human Invalid Sources (Bots/Proxies)
8) Habitual Protestors - "Screamers" with high incidence of spam reporting
---
CATCH-ALL EMAILS = LOST CUSTOMERS, LOST QUALIFIED LEADS
Catch-All emails don't bounce but instead receive a valid return from the SMTP … regardless if the email address is linked to an actual person. Many email validation services will include catch-all emails within the Valid category … which is wrong since Valid should be reserved for valid emails linked to real people.
Catch-All emails are prevalent with business email lists … since many companies have structured their incoming email systems to accept ALL emails … as these companies don't want to risk missing an email from a valuable lead or customer just because the Sender misspelled X person's name.
To reiterate, many a times a Catch-All email address IS linked to an actual person, thus it's not wise to automatically delete Catch-All emails as you could be deleting valid emails for customers and qualified leads. A better route is segment / rate the Catch-Alls … which is exactly what we do!
---
VALUE ADDED OPTIONS WITH EMAIL VALIDATION
1) Contact Name – Email Address Affinity Score: Email databases with a low affinity score are likely loaded with unresponsive passive email addresses and unqualified leads.
2) Primary vs Passive Email Address Score: Primacy / active email addresses are much more response than passive email addresses. All low-cost email lists promoted on the web are packed with passive email addresses.
3) Contact Name Residence Accuracy: If contact name does not exist at given postal address, then likely the email addresses is not linked to respective name … likely unqualified lead.
4) Clone Consumer Email Leads: After building a Profile Analysis, we can provide consumer email leads for individuals that share the same Profile as the top-performing segments.
5) Clone Business Email Leads: After building a Profile Analysis, we can provide business email leads for key decision makers at companies that share the same Profile as the top-performing segments.
6) Discounted Consumer Profile Analysis: This report will show which demographic and psychographic are performing the best … valuable insights for segmenting and buying consumer email lists.
7) Discounted Business Profile Analysis: This report will show which firmographics are performing the best … valuable insights for segmenting and buying business email lists.
EMAIL VERIFICATION COST: As a major supplier of business email lists and consumer email lists, we already have a massive system for daily email validation … and with this economy of scale model we can offer very competitive email validation pricing … pricing is that is lower than most. For example, most email validation suppliers are charging about .007 for validating 100,000 email addresses; our rate is lower! Do note that email validation does have a $250 minimum order requirement … though this minimum can be waived in some instances.