DIRECT MAIL + IP TARGETING
Boost Direct Mail Results With IP Targeting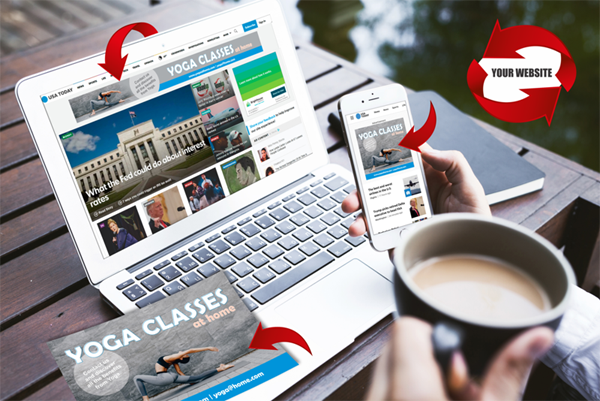 WHAT IS IP TARGETED DIRECT MAIL: Through IP Identification technology – we have the IP Address for about 50% of all US households and businesses, and with this IP Address we can create a custom direct mail list consisting of qualified leads with the IP Address. From the IP Address we can show display ads to your direct mail list names. Our main IP TARGETING page provides more info about IP Targeting.
WHY AN IP TARGETED AD CAMPAIGN WILL BOOST YOUR DIRECT MAIL RESULTS: A direct mail recipient that is familiar with your company name/brand is more likely to review your direct mail offer than a recipient who has zero awareness of your company. For example, per above image – the Target sees the offer (Yoga Classes) while reviewing the USA Today Newspaper, while surfing the web on mobile phone, and then finally when the postcard arrives. The USA Today ad and mobile ad not only generates CLICKS, but also builds brand awareness … which ultimately will boost direct mail response rates.
IP TARGETED DIRECT MAIL – THE PLAN: A few weeks before your direct mail drop – your direct mail recipients will begin to see your digital display ad as they are surfing the web. From the corner of their eye … some of your direct mail list recipients may see your brand 5 … 10 … 15 … 20 … 25 … 30 times! No doubt these ad impressions will build brand awareness … thus increasing the likelihood that your direct mail list recipients will OPEN your direct mail envelope … boosting your direct mail results. IP Targeted direct mail works!
MORE THAN JUST BETTER DIRECT MAIL RESULTS:Combining IP Targeting with direct mail will not only boost your direct mail response rates, but there's also the added benefit of some your direct mail list recipients clicking on your IP ad … before even receiving your direct mail offer.
DIRECT MAIL LIST QUANTITY: The audience reach of your IP Targeting ad campaign is determined by you. As mentioned, we have the IP Address for about 50% of your qualified leads, so you may opt to only mail the qualified leads in which we have an IP Address … OR simply mail all … with the understanding that only 50% of your direct mail list will see your display ad. In fact, the IP digital ad cost is much lower for the latter option.
USE IP TARGETING TO VERIFY DIRECT MAIL LIST BEFORE INVESTING BIG DOLLARS: Direct mail is expensive, so before investing big dollars – you may test your direct mail list … or segments of your direct mail list with an IP Targeting ad campaign. The number of clicks your display ad generates for each direct mail list segment will tell you which direct mail list segments that you should mail.
WHAT ARE THE CREATIVE REQUIREMENTS WITH AN IP TARGETED DIRECT MAIL CAMPAIGN? HOW WILL MY IP DISPLAY AD APPEAR? You determine the creative angle of your IP digital display ad. This link provides the technical specifications of your digital display ad.