BUSINESS MARKETING LISTS PROFILE
Low-cost market analysis shows exactly how to select your business list

THE CHALLENGE: There are over 1000 SIC codes … and over 1000 NAICS marketing lists codes, so often marketers struggle with finding and selecting the optimal SIC code or NAICS marketing list. And due to the high number of SIC – NAICS marketing lists codes, many marketers inadvertently select low performing business markets … thus wasting valuable ad dollars that could be used to maximize contacts to the high-value business list markets. And even when the right business list market is selected, often there is room for improvement by focusing on specific sub-segments with the specific business list market.
THE SOLUTION: DMDatabases offers a low-cost Business Market Analysis report that will show performance for all US business list markets … and sub-segments within these business markets. The sub-segments may include employee size, sales volume, years-in-business, and other firmographics.
THE POWER: Buying a report which simply shows the number of customers per SIC or NAICS marketing list code is too simplistic … and can result wasted ad dollars and missed jackpots. In the past 30+ years we have generated over a thousand of these business market analysis reports, and from this experience we confidently conclude that often golden nuggets are hidden within a specific business market. For example, per below note that this marketer's optimal NAICS marketing list will consist of beauty shops with 3 to 7 employees.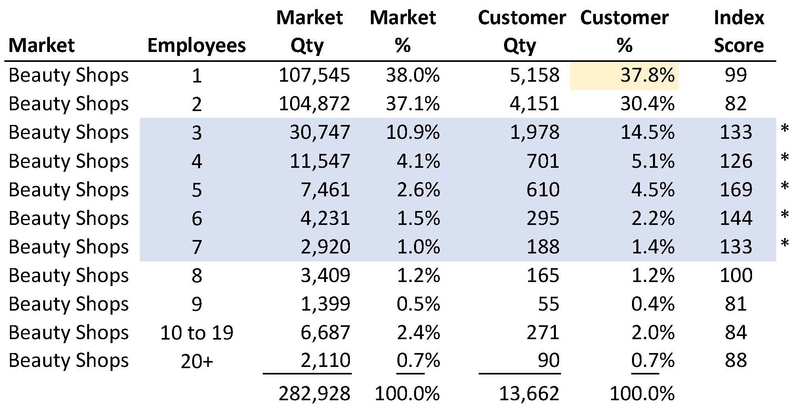 NOTE ABOUT INDEX SCORE: Many business profile reports simply show the number of customers that have X NAICS marketing list code … and the relative percentage … and this basic layout is meaningless as it provides no perspective. For optimal value, the marketer must have some type of index to compare with the market at large. Example, in the above example a marketer may instinctually assume that beauty parlors with 1-employee is the best target … since this sub-group has the higher concentration of customers. However, by adding an index score the marketer realizes that beauty shops with 3 to 7 employees represent the prime NAICS marketing list.
HOW THE PROCESS WORKS:
STEP 1: Send us a random sample of customers and/or inquirers.
STEP 2: We append selected firmographics.
STEP 3: We generate tabulations the appended firmographics.
STEP 4: We compare tabulations to marketplace and generate the Index Scores.
STEP 5: Client uses the market analysis report to refine business marketing list selections.
VALUE-ADDED REPORT: After identifying the top performing business list markets, we can generate an additional report showing which business lead generation sources are producing the most leads from the top performing markets. Example, some lead sources may appear fantastic on the surface, but after a closer look a marketer may realize that most of the leads are from low performing SIC – NAICS marketing list groups.