CONTEXTUAL TARGETING
Contextual advertising for driving visitors to your website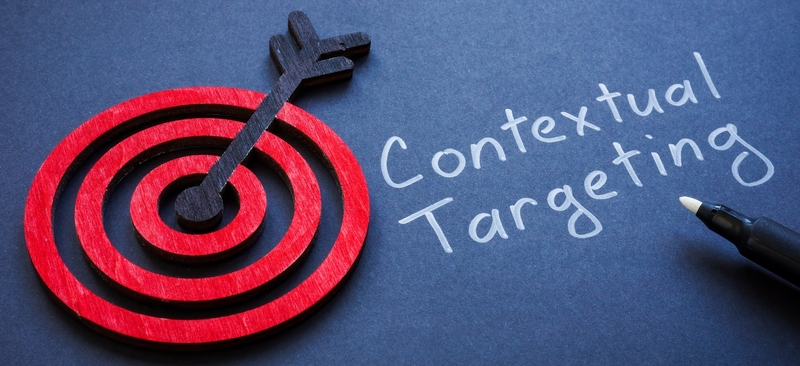 Drive new potential customers to your website by showing your ads to the RIGHT people
… at the RIGHT time …and at the RIGHT place. You can do all this with contextual advertising! 
Contextual advertising has been around for decades, though in past few years demand has been skyrocketing. Why?  One reason springs from the deprecation of third party cookies … spurring demand for "cookie-free" contextual ads. Another reason is due to very impressive metrics … stemming from advances in contextual algorithms and artificial intelligence technology.  Plus, contextual ads are multi-channel and scalable, so your digital ads can reach your target whether they are surfing the web from a desktop, laptop, ipad, or phone.
RIGHT PEOPLE:   With contextual advertising your ads are seen by people that have a need affinity to your products.  For example, if you're selling pet supplies, then your ad may appear on a news article about pets.  If you have a weight loss product, then your ad may appear on a website presenting low-fat cooking recipes.  If a user is reading article about wedding planning, then the user may see a wedding dress ad.  Below is a reading glasses ad appearing in a book review article.

RIGHT TIME:
 The right time to serve an ad is when the target has a mindset that matches your product.  For example, if one is reading a sports article then they may be receptive to an ad about running shoes.  If a user is browsing a blog about wedding planning – then this is likely the right time to serve a wedding offer ad.
RIGHT PLACE:  With behavioral targeting and many other digital ad mediums, ads are often served not at the ideal place. For example, just because behavioral indicator shows that Y has an interest in technology – doesn't mean a technology ad should be shown while Y is reading a sports article.  The ideal - right place is to show a technology ad is at a technology related location … again matching the user's mindset with the ad/offer.
CORNERSTONE OF CONTEXTUAL TARGETING:  Reviewing and classifying web pages into interest/lifestyle groups is the cornerstone of contextual targeting. Years ago this process was primarily driven by keywords, but today … due to advanced and refined algorithms combined with AI … it's possible to gain a highly accurate sense of the content. The systems are scanning an array of data elements (keywords, phrases, images, headings, layout, URL levels, etc) to capture contextual information about a web page … to accurately classifying to an interest group. Plus, the contextual algorithms create positive connotations scores for identifying web pages to avoid.
CONTEXTUAL ADVERTISING BENEFITS:
Benefit 1: Contextual advertising runs without cookies, thus contextual targeting easily passes GDPR and CCPA regulations.
Benefit 2: Contextual ads function without 3rd party cookies, thus no gatekeeper issues with the big web browsers (Apple Safari, Google Chrome, Firefox.
Benefit 3: Contextual advertising is safe for advertisers that are concerned about their brand appearing on compliant web pages. And not just compliance, there is also concern for brand reputation. Ads on certain pages (extremist content, adult only content, etc) can harm brand image. With contextual advertising the AI system specifies specific interest categories per keywords and page content.
Benefit 4: Right People, Right Time, Right Place!  The huge benefit of contextual targeting is relevancy.
Benefit 5: Contextual advertising campaigns are served programmatically thus there's real-time cost bidding for optimal ad placements. Plus, programmatic ads mean detail metrics for refining contextual interest groups to help optimize results.
CONTEXTUAL ADVERTISING GROUPS
Your contextual advertising campaign can be served to any of the below lifestyle interest groups. And be sure to revisit as we will continue to add new contextual lifestyle groups.
Arts & Entertainment
Books & Literature
Celebrities
Fine Art
Games (card games/tabletop)
Humor
Movies & TV
Music
Video Games (PC & Console, Mobile & Casual)
Automotive
Business & Industry
Careers
Dating
Education
Colleges & Universities
Standardized Tests & Admission Tests
Training & Certification
Vocational / Continuing Education
Family & Parenting
Finance
Currencies
Investment
Loans
Food & Drink
Beer & Wine
Cocktails
Coffee
Confection / Chocolate
Recipes & Meal Prep
Restaurants / Cuisine
Vegetarian / Vegan
Fashion & Beauty
Accessories
Apparel - Men
Apparel - Women
Cosmetics
Jewelry
Health & Fitness
Alternative Medicine / Dietary Supplements
Diet & Weight Loss
Exercise / Training
Men's Health
Skin Care / Dermatology
Women's Health
Home & Garden
Gardening
Home Improvement
Interior Decor
Law, Gov't & Politics
News
Pets
Real Estate
Retail
Science
Society
Sports
Technology & Computing
Cameras
Gaming Peripherals
Smartphones / Tablets
Travel
Tourist Destinations
Tourist Destinations / Beaches & Islands
Tourist Destinations / Casinos
Tourist Destinations / Mountains & Ski Resorts
Vacation Rentals & Short Term Stays