CO-OP DIRECT MAIL TO RESTAURANT OWNERS
Take advantage of the most effective ad medium … at half the cost!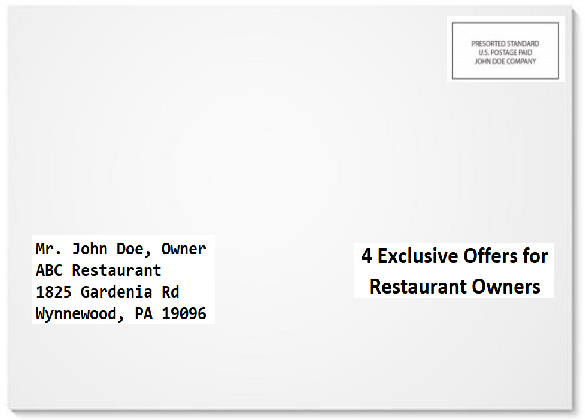 SYNOPSIS: No doubt direct mail is a highly effective ad medium … which is why Google and so many other major digital marketers are using direct mail to find new customers.   CLICK HERE to learn more.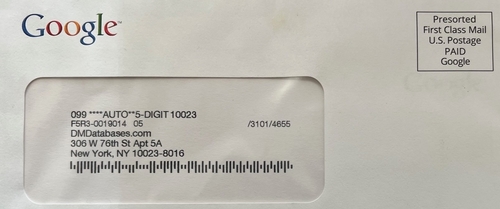 DIRECT MAIL BENEFITS
A digital display ad can't compete with the visceral tangible aspect of a direct mail piece.
Direct mail has the undivided attention of the reader … unlike a Google search result that bombards the eye with display ads.
Due to high cost of direct mail, physical mailboxes are no longer full … meaning there's a high likelihood that intended target will see brand, logo, offer … unlike an ad on a digital screen.
Direct mail offers pinpoint targeting that digital cannot match. Displays ads and even Google search results are often seen by individuals with no interest in offer. This direct mail campaign is going strictly to restaurant owners of independent seated dining restaurants.
Bottom-line, study after study shows that direct mail works! The problem is the cost … which is why only the big players (Google, etc) can reap the rewards of a direct mail campaign. The small budgets are left with swamped digital mailboxes and ads lost in a sea of search results and display ads. That is until now. Now small budgets can enjoy the rewards of a direct mail campaign … with DMDatabases custom B2B co-op direct mail campaign!
Target: Independent Seated Dining Restaurant "Owners"
Mail Qty: TBA
*First mailing will represent a random sample of the 100,000+ independent seated restaurant owners.
Package: Envelope containing 4 full-color postcards with non-competitive restaurant related offers. Participants may review offers before officially joining the co-op campaign.
Creative Space: "Double-sided" 8.5 x 5.5 postcard to present brand/offer … message to drive restaurant owners to your website … preferably custom landing page.
Cost: A whopping 50% less than a solo postcard campaign. Plus, a co-op campaign has the huge envelope advantage, per below.
Envelope Advantage: A major benefit with the co-op is the envelope! Postcards by themselves are often ignored and lost; postcards within an envelope … with multiple restaurant offers are more enticing … capture attention.
Getting Started: . You simply send us your graphic design and DMD takes it from there.