WHY YOU SHOULD BUY A DIRECT MAIL LIST
Answer = Direct Mail Works!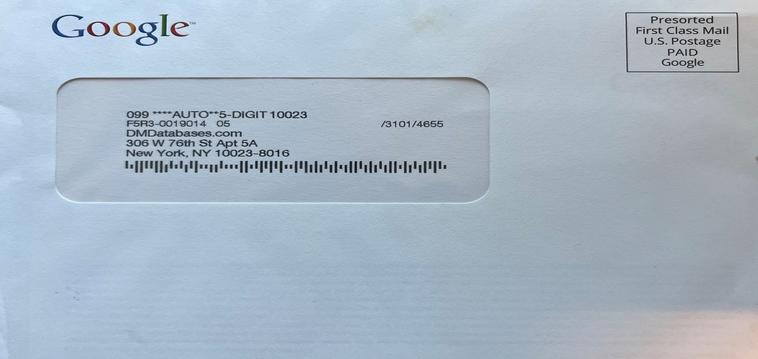 That's right – Google is one of America's largest direct mailers.  Even though Google has unlimited digital ad capacity – Google still uses direct mail because Google understands that direct mail is effective for finding new customers and generating revenue!  In fact, over 60% of all mail sent is advertising mail … 75 BILLION advertising mail pieces are mailed each year … representing $18 billion dollars in direct mail advertising.  Advertisers are spending billions on direct mail for a reason … direct mail works!  And below are a few reasons why advertisers are spending billions on direct mail.  *Below statistics from USPS direct mail survey, link available upon request.
OVER 50% OF HOUSEHOLDS READ DIRECT MAIL ADVERTISING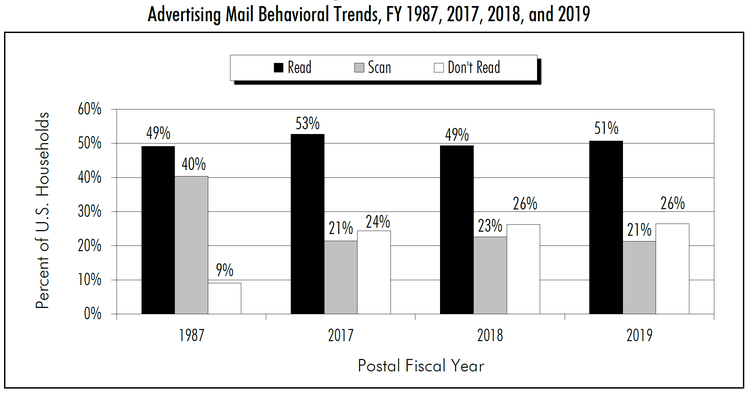 DIRECT MAIL GENERATES MORE CLICKS THAN DIGITAL ADS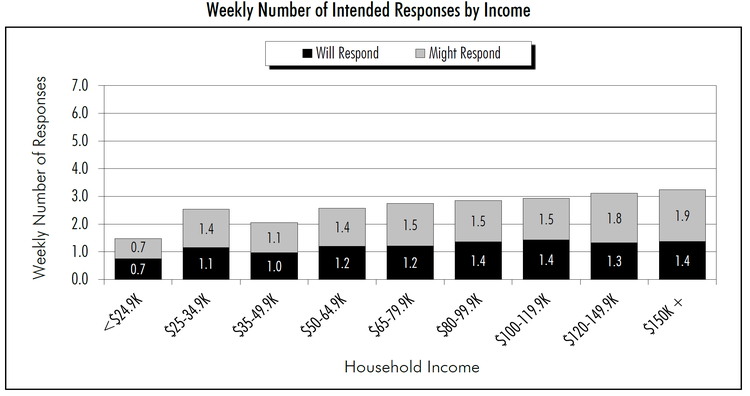 *Although there is no completely equivalent measure for intended response to Internet ads, the click-through rate (the percentage of online visitors who viewed an ad and also clicked on it) is widely used as an indicator of consumers' interest in online ads. As such, it is somewhat comparable to mail ads' read rates. Based on published reports, the average click-through rate for Internet advertising is less than 3 percent. Overall read rates for mail ads, on the other hand, have averaged about 50 percent.
DIRECT MAIL TO AFFLUENT MARKET IS HIGHLY EFFECTIVE
USPS survey shows a significant correlation between number of mail pieces received and income/education. For example, households receiving less than 12 pieces of mail per week had an average income of $46,000; in contrast, those receiving 12+ pieces per week had an avg income of $88,000. Thus, when considering the amount of mail that advertisers send to affluent households, one could surmise that direct mail performs well with the affluent – educated cohort.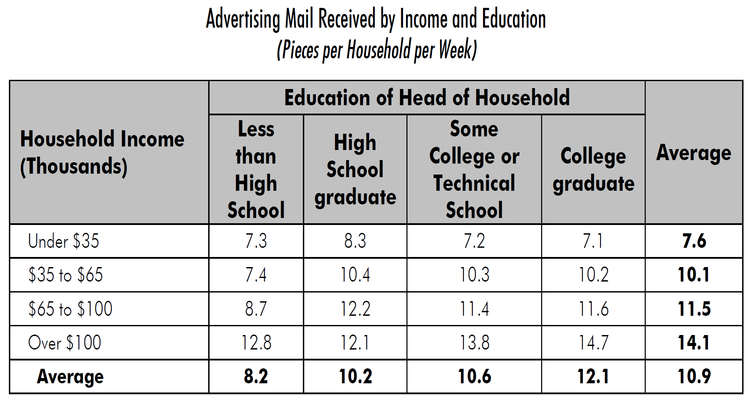 PINPOINT TARGETING
When considering the plethora of filters available when purchasing a mailing list - it's safe to conclude that digital marketing cannot match the degree of pinpoint precision … laser focusing … that is available with direct mail.  This link shows some of the filters available with a consumer mailing list … many which are not available on digital ad platforms.
GREATER REACH
Due to digital cookie elimination, ad blockers, opt-outs, etc … it's just not possible to reach all qualified prospects via digital marketing. On the other hand, direct mail is the only medium that provides optimal market coverage.
LONGER SHELF-LIFE
USPS surveys shows that the average mail piece … in which there is a general interest … is kept in household for 17 days. Do you ever go look at those old emails you've saved?
YOUR BRAND/OFFER HAS GREATER HOUSEHOLD REACH
With digital advertising your brand/offer is seen by one household member. On the other hand, with direct mail – your brand/offer is often seen by multiple household members.
LESS CLUTTER – LESS COMPETITION
The average American household receives only two pieces of mail each day – while their email Inboxes are overflowing with promotional offers. Daily, email boxes are packed with promotional email – though not your mailbox by the street; in this mailbox your brand/offer will stand out.
DIRECT MAIL RECIPIENTS SPEND MORE
USPS survey shows that direct mail recipients typically spend about 30% more than customers generated via digital ad. This fact is partly due to pinpoint targeting that is inherent in a mailing list … direct mail offers reach highly qualified leads.
DIRECT MAIL IS MORE PERSONAL
For all marketing channels - study after study highlights the importance of personalization, and with this fact in mind note that the great majority of people believe direct mail is more personal than digital ads. Recipients have a higher regard for direct mail as they realize direct mail takes more time and effort to create and print.
DIRECT MAIL IS MORE TRUSTWORTHY
Scammers and so many other shady characters can easily - quickly – cheaply execute a digital ad campaign … which is on reason people are sometimes hesitant to click digital ads. Direct mail on the other hand takes more time and effort … and money … and this is one reason direct mail is more trustworthy - generates more new website visitors than digital ads.
AFFORDABLE DIRECT MAIL CAMPAIGN
As a value-added benefit to clients that purchase a mailing list or email list – we offer a highly discounted full-service direct mail campaign. And if the budget is really tight – then note that we also offer very low-cost co-op direct mail campaigns; the co-op campaigns often have a high ROI when calculating the low cost by the number of unique leads driven to the website. Contact our data specialist for details.