MODELED CREDIT SCORE DIRECT MAIL LIST - EMAIL LIST
Modeled Credit Score Leads for Direct Mail, Email Marketing, Digital Ads

Big data is transforming every industry … baseball, stock trading, science, medicine, and yes … Modeled Credit Score lists. By collecting, combining, and crunching a gargantuan amount of data … advance algorithms are drafting baseball players without a scout review. A computer is defeating grandmaster chess champions. And now, because of big data and extreme algorithm number crunching … you can order modeled credit score leads that are similar to actual credit scores.
---
HOW IS THE MODELED CREDIT SCORE MARKETING LIST CALCULATED?
Testing indicates that our modeled credit scores are the most accurate in the mailing list industry. The accuracy comes from 25 years of refinement … AND an EXTENSIVE array of data. First, actual credit data from the three credit bureaus is collected for all households at the block level. Next, we combine the credit bureau data with mortgage deed data, tax assessor's data, past buying history, and hundreds of demographic and lifestyle variables from our master consumer database. The end result is a modeled credit score list that has similar FICO credit scores. The credit scores range from 450 to 850.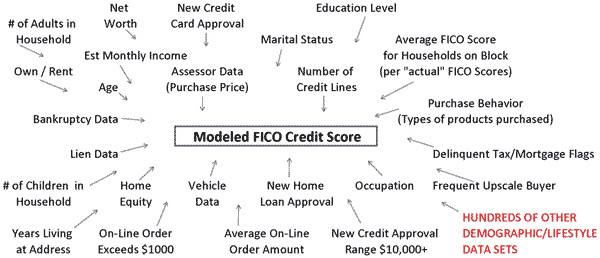 5 ADVANTAGES MODELED CREDIT SCORES LEADS HAVE OVER ACTUAL CREDIT SCORES
More demographic data … net worth, occupation detail, children in household, etc.
More lifestyle data … a credit list will get response boost when using lifestyle data.
More email addresses … 100% opt-in and 90+ percent deliverable guarantee.
Much lower pricing … modeled credit score lists are 50% cheaper.
Fast turnaround time … receive your credit score list in 48 hours.
CREDIT SCORE LEADS – AVAILABLE MARKETING APPLICATIONS
Credit Score Email Campaign: We will email blast your offer to your modeled FICO score leads with a guaranteed email open rate (assuming offer/creative is approved).
Credit Score Email List:  We can provide credit score email leads if you wish to execute and control your own email campaign to the modeled FICO leads.  And note that the modeled FICO score email list has a 90+ percent accuracy rate or "money-refund!"  Of course, one major advantage of buying a credit score email list is the unlimited usage benefit … the option to email multiple offers, subject lines, creatives, etc.
Credit Score Digital Ad Campaign: We will serve digital banner ads to your modeled FICO score lead's home IP address. Meaning … when the FICO score target is surfing the web the home network, your ad will appear on many of the websites that your FICO lead is viewing.
Credit Score Facebook Ads: Our modeled FICO score email leads can also be used to reach "highly qualified" leads on Facebook.
---
Actual Credit Score Lists