HOME EQUITY LEADS – EQUITY EMAIL LISTS
Generate HELOC leads with our equity email list, mailing list, digital ads.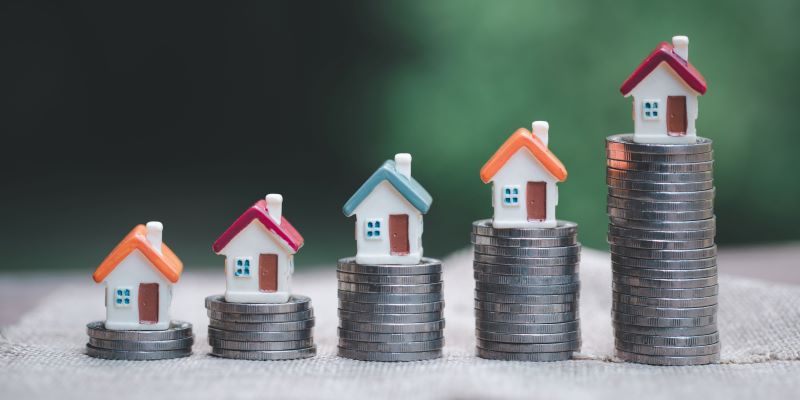 Welcome to the largest Home Equity Marketing Database … packed with filtering options for generating qualified HELCO leads. And for a sense of size, the home equity email list quantity exceeds 25,000,000 for homeowners with equity of $100,000+ … representing THE largest home equity email list on the market!
WHY DMD IS A MARKET LEADER WITH HOME EQUITY LEADS:  Sure, that 25MM quantity is impressive as every marketer wants optimal market coverage, though reaching qualified home equity leads supersedes quantity. For success marketers need to focus on their prime HELOC marketing leads. And pinpoint targeting is our expertise. Our extensive array of filters separates DMDatabases from so many other home equity mailing list sellers.
To help pinpoint your prime HELCO marketing leads, our home equity mailing lists and email lists are selectable by an array of demographics, psychographics, and behavioral indicators. Exact age of the homeowner, marital status, years residing at the address, occupation, household composition, automotive values, modeled FICO score, lifestyle interests/hobbies, and more. CLICK HERE to review filtering options.
Home equity amount and LTV are of course important when buying your home equity leads, but equally important is the profile of the homeowner. And by importance we mean the probability of closing an equity loan – HELOC loan. Filters are paramount since not all home equity prospects are the same. Example, a homeowner with a very high income would likely have less of a need for a HELOC loan than a middle-class family. A big spender (boat, fancy car, travel, etc) would probably like a HELOC loan more than a conservative senior that never spends money. In fact, to gain insight in the profile of your ideal equity leads, we offer a low-cost equity profile analysis on your past equity loan customers.
HOME EQUITY AMOUNT: With this filter you can target homeowners by exact amount of equity in the home. For example, you could buy a home equity email list of homeowners with $100,000+ in equity. Or, if seeking super high equity homeowners, then you may consider buying a home equity mailing list with a whopping $1,000,000+ in equity.
HOME EQUITY PERCENTAGE: A homeowner with $200,000 in equity could still be a weak HELOC lead if the LTV is not good. And for this reason, we recommend using our equity percentage (aka LTV) when selecting your home equity email list – mailing list.
LOAN TYPE: You may include/exclude certain loan types when buying your home equity leads. Here is a listing of available loan types for home equity mailing list: Building / Construction, Commercial, Conventional, FHA, Line of Credit, USDA, VA.
LOWEST PRICE GUARANTEE: For 30+ years DMDatabases has been one of the largest aggregators and data sellers of home equity leads, and with these economies of scale we can pass along pricing that is highly discounted. In fact, we guarantee the lowest price when you buy a home equity email list from us!
HOME EQUITY MARKETING LIST GUARANTEE: Your home equity leads may include the following data AND quality guarantees:
Full Name of Homeowner: 95+% accurate or money-refund
Mailing/Postal Address: 95+% accurate or money-refund
Email Address: 90+% accurate or money-refund
Cell Phone#: 95+% accurate or money-refund
Landline Phone#: 95+% accurate or money-refund
Age Homeowner: 95+% accurate or money-refund
Years Resident at Address: 95+% accurate or money-refund, …. etc.
HOME EQUITY MARKETING LIST APPLICATIONS
Email Campaign to Your Home Equity Leads: We will email blast your offer to your home equity list … with a guaranteed email open rate (assuming offer/creative is approved). And after the email campaign you may receive a list of all the homeowners that Opened your email message.
Home Equity Email List: We can also provide you with the home equity email list if you wish to execute and control your own email campaign. Of course, one major advantage of buying an equity email list is the unlimited usage benefit … the option to test multiple offers, subject lines, creatives, etc.
Digital Ad Campaign: We will serve your digital ads to your qualified equity / HELOC leads.
Facebook Ads to Home Equity Email List: Along with email marketing – you can use our equity email list to reach the "qualified" HELOC leads on Facebook.
Home Equity Mailing Lists: Sure, direct mail can be expensive, though on the backend your ROI will be higher than other mediums. Unlike digital ad mediums (Google ad words, Google Search, Facebook, etc), direct mail offers a guaranteed way to get your brand/offer in front of qualified HELOC leads. With direct mail your offer will not have to compete against countless other competitive offers. And to help we offer a full-service discounted direct mail campaign when buying our home equity mailing list.
CALL US NOW, IT'S THE PERFECT TIME TO BUY AN EQUITY EMAIL LIST – MAILING LIST FOR GENERATING HELOC LEADS!
During the past decade … especially during the pandemic period … home values have rocketed to all-time highs … increasing home equity to $20 TRILLION+. Typically, homeowners use this increase value to sell and move-up, but now with high mortgage rates … and stratosphere listing prices … most homeowners are firmly rooted – reluctant to sell and give-up their low interest mortgage rate. Instead of moving up, homeowners are accessing their equity with HELOC loans … home equity line of credit loans. Homeowners are tapping their equity to pay off high interest credits cards, school loans, medical expenses, fund home improvements, take dreams vacations, etc. Now is the time to use our home equity marketing list for promoting your HELOC offers.