SMALL BUSINESS MARKETING LISTS
Small business email leads for 50% of small businesses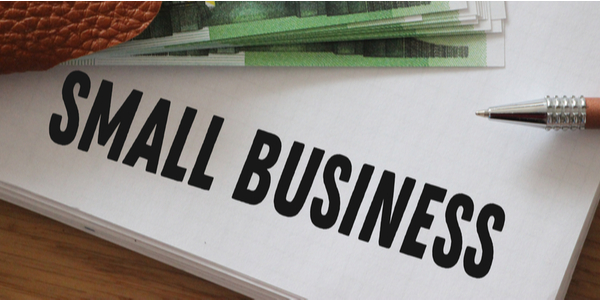 SMALL BUSINESS LIST QUANTITY:  Per below tabulation, DMDatabases offers THE largest database of small business leads … over 15,000,000!

SMALL BUSINESS LEADS WITH A MONEY-REFUND GUARANTEE: There is a significant turnover rate with small business marketing lists thus a significant investment and effort is made to re-verify all small business leads multiple times each year. Because of this effort we confidently offer the best data quality guarantee for small business marketing lists, per below:
Executive Name: 95% accurate or money-refund
Executive Job Title: 95% accurate or money-refund
Executive Email Address: 90+% accurate or money-refund
Company Name: 95% accurate or money-refund
Company Address: 95% accurate or money-refund
Company Phone Number: 95% accurate or money-refund
Type of Business: 95% accurate or money-refund
Number of Employees: 95% accurate or money-refund
FILTERS FOR SELECTING SMALL BUSINESS MAILING LIST – SMALL BUSINESS EMAIL LIST
Annual Sales Volume
Number of Employees
Operates from Commercial or Residential Location
Primary Business Function
Secondary Business Function
With or Without Website
Years-In-Business
… and many more. CLICK HERE for full listing of business leads filters
HOW TO DEFINE SMALL BUSINESS LEADS:
The SBA (Small Business Administration) consider a company with 50 employees as small, though DMDatabases a company with 50 employees as a large company. DMD's definition of small is 20 employees or less. In fact, per below tabulation a whopping 90% of all US companies have less than 20 employees … a testament that America is truly a country of small businesses!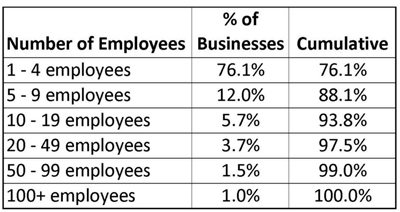 5 WAYS OUR SMALL BUSINESS MARKETING LISTS CAN AID YOUR MARKETING EFFORT
Option 1: Small Business Mailing List: If your goal is to put your brand/offer in front of all small businesses within your territory, then direct mail is the answer! Direct mail is the only medium where you can reach 100% of small businesses in your territory.
Option 2: Small Business Email List: The weakness of this option is weak market coverage since no reputable data seller has email for more than 50% of the small business market. The big advantage: a business email list represents the lowest cost medium for presenting your offer to small businesses. If direct mail is beyond budget, then email marketing is the way to go!
Option 3: Small Business Digital IP Campaign: DMD can serve your display ad (brand/offer) to about 70% of small businesses … meaning the business owner or other few employees will see your brand/offer when they are surfing the web from their Internet server. Plus, note that only qualified business leads will see your display ad … as with an IP campaign offers pinpoint targeting options.
Option 4: Small Business Facebook Ads: The standard Facebook filters are missing majority of small businesses since most business owners do not indicate their business ownership status on their personal Facebook account. However, still possible to reach some small business owners on Facebook by using the personal email addresses and mobile numbers that we have for many small business owners.
Option 5: Small Business Cell Phone Numbers: DMDatabases has over 1,000,000 cell phone numbers of small business owners. Cell phone numbers are not too effective for telemarketing, thought many have found success with small business text campaign … when using a concise relevant offer. Plus, B2B cell phone numbers offer an additional for reaching small business owners on Facebook.
NOTE ABOUT SMALL BUSINESS EMAIL LEADS: We offer small business email leads for the business email address and/or personal email address; discount applies when purchasing both email list types. As a reminder B2C email addresses can help facilitate a Facebook campaign.
SEARCH HERE TO FIND OTHER DATABASES
For more info about small business databases call 888-395-6727 or simply complete below Info Request Form … during business hours you'll typically receive info within 15 minutes.