DOCTOR DATABASES BY MEDICAL SPECIALTY
Doctor databases for 100+ medical specialties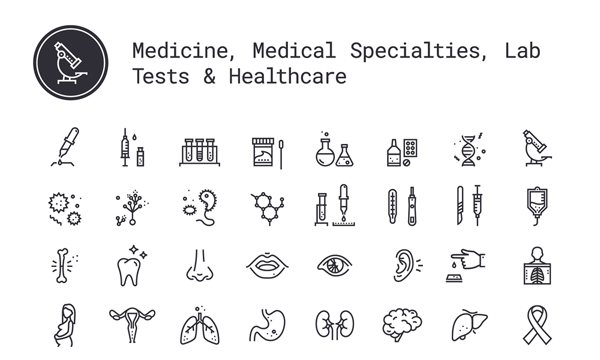 Note 1: Along with ordering a doctor database by specialty, you may use medical firmographics to further refine your doctor marketing database. For example, instead of ordering a doctor mailing list for all dermatologists, you may focus on dermatology practices with 5+ doctors. CLICK HERE to review medical databases filtering options.
Note 2: Many doctors have multiple specialties, thus for your physician database order you may include or exclude physicians that practice targeted medical specialty on a secondary level.
Note 3: All physician email lists and physician mailing lists have a money-refund data accuracy guarantee.
---
DOCTOR MEDICAL DATABASES ARE AVAILABLE IN THE FOLLOWING SPECIALTIES:
Allergy & Immunology
Allergy
Allergy & Immunology
Immunology
Immunopathology
Pediatric Allergy
Anesthesiology
Anesthesiology
Critical Care Anesthesiology
Critical Care Medicine
Pain Management
Cardiology
Cardiovascular Disease
Cardiovascular Surgery
Interventional Cardiology
Pediatric Cardiology
Dermatology
Dermatology
Dermatopathology
Endocrinology, Diabetes & Metabolism
Diabetes
Endocrinology
Pediatric Endocrinology
Reproductive Endocrinology
Emergency Medicine
Emergency Medicine
Urgent Care
Family Practice/General Practice
Family Practice
Geriatric Family Practice
General Practice
Geriatrics
Geriatrics
Geriatric Family Practice
Rheumatology
Internal Medicine
Adolescent Medicine
Diagnostic Laboratory Immunology
Gastroenterology
Hematology
Hepatology
Hospitalist
Infectious Diseases
Internal Medicine
Int-Med Cardiac Electrophysiology
Nephrology
Nutrition
Pulmonary Disease
Pulmonary Critical Care Medicine
Rheumatology
Vascular Surgery
Medical Genetics
Genetics
Clinical Genetics
Neurology
Child Neurology
Clinical Neurophysiology
Critical Care Neurological Surgery
Neurological Surgery
Neurology
Spinal Cord Injury
Vascular Neurology
Obstetrics & Gynecology
Critical Care Obstetrics & Gynecology
Gynecology
Maternal & Fetal Medicine
Obstetrics
Obstetrics & Gynecology
Reproductive Endocrinology
Oncology (Cancer)
Gynecological Oncology
Medical Oncology
Hematology/Oncology
Pediatric Hematology-Oncology
Radiation Oncology
Surgical Oncology
Ophthalmology
Ophthalmology
Orthopedics
Adult Orthopedic Surgery
Foot & Ankle Orthopedics
Orthopedic Musculoskeletal Oncology
Orthopedic Surgery
Orthopedic Surgery & Sports Medicine
Orthopedic Surgery of the Spine
Osteopathic Manipulative Medicine
Orthopedic Trauma Surgery
Pediatric Orthopedic Surgery
Sports Medicine
Otolaryngology
Otology
Otorhinolaryngology
Pathology
Anatomic Pathology
Blood Banking
Chemical Pathology
Clinical Pharmacology
Clinical Pathology
Cytopathology
Forensic Pathology
Hematology
Medical Microbiology
Neuropathology
Oral Pathology
Pathology
Pathology-Hematology
Pediatric Hematology-Oncology
Radioisotropic Pathology
Pediatrics
Adolescent Medicine
Child Neurology
Child Psychiatry
Developmental-Behavioral Pediatrics
Neonatal-Perinatal Medicine
Pediatrics
Pediatric Anesthesiology
Pediatric Cardiology
Pediatric Critical Care
Pediatric Emergency Medicine
Pediatric Endocrinology
Pediatric Gastroenterology
Pediatric Hematology-Oncology
Pediatric Infectious Disease
Pediatric Internal Medicine
Pediatric Nephrology
Pediatric Ophthalmology
Pediatric Orthopedic Surgery
Pediatric Otolaryngology
Pediatric Pathology
Pediatric Pulmonology
Pediatric Radiology
Pediatric Rheumatology
Pediatric Sports Medicine
Pediatric Surgery
Pediatric Urology
Perinatal Medicine
Physical Medicine & Rehabilitation
Physical Medicine & Rehabilitation
Plastic Surgery
Maxillofacial Surgery
Plastic Surgery
Preventative Medicine
Aerospace Medicine
General Preventive Medicine
Medical Toxicology
Occupational Medicine
Undersea Medicine
Psychiatry
Child Psychiatry
Forensic Psychiatry
Geriatric Psychiatry
Psychiatry
Psychoanalysis
Radiology
Diagnostic Radiology
Nuclear Radiology
Neuroradiology
Pediatric Radiology
Radiation Oncology
Radiology
Vascular & Interventional Radiology
Surgery
Abdominal Surgery
Adult Orthopedic Surgery
Cardiovascular Surgery
Colon & Rectal Surgery
Critical Care Neurological Surgery
Critical Care Surgery
Dermatologic Surgery
General Surgery
Hand Surgery
Head & Neck Surgery
Maxillofacial Surgery
Neurological Surgery
Orthopedic Surgery
Orthopedic Surgery & Sports Medicine
Orthopedic Trauma Surgery
Pediatric Orthopedic Surgery
Pediatric Surgery
Plastic Surgery
Thoracic Surgery
Traumatic Surgery
Urological Surgery
Vascular Surgery
Urology
Urological Surgery
Other
Addiction Medicine
Bariatrician
Clinical Pharmacology
Critical Care Medicine
Flexible
Legal Medicine
Nuclear Medicine
Other Specialty
Pain Medicine
Palliative Medicine
Pharmaceutical Medicine
Phlebology
Public Health
Unspecified
---
NON-MEDICAL EXECUTIVES WITHIN MEDICAL PRACTICE
Administrator
Board Member
CIO/CTO
Controller
Director
Executive Director
Facilities Manager
Finance Manager
Human Resources
Information Technology Director
Legal
Marketing Mgr
Office Manager
Operations Manager
Owner
Technical Manager
Vice President
Master Doctor Database Page
Marketing Strategies for Reaching Doctors