POLITICAL DONORS EMAIL LIST
Political Donors Marketing Lists for Direct Mail, Email, SMS, Digital Ads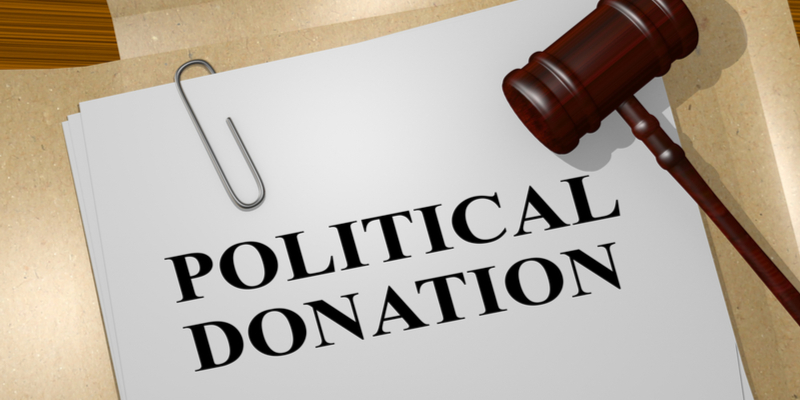 Political Donors Email List Quantity: Welcome to THE largest opt-in email list of political donors. For the 2020 general election alone … this political donors email list offers 2.3 MILLION email addresses … no other data company offers such a high quantity of opt-in email addresses for 2020 political donors. Of course, you may filter by political party, Congressional District, and more. 
How to verify your 2020 political donors mailing list - email list:  Some dubious data sellers advertise very high 2020 political donors mailing list quantities by including political donors from other elections … some going back decades; this fraud can be caught by simply looking-up a random sample of the names on the FEC political donors website.  Unlike other data sellers, we offer a "money-refund" guarantee that our 2020 political donors mailing lists will only consist of 2020 political donors; we even include date of donation. 
Political Donors Mailing List Quantity: For the 2020 General Election period – the political donors mailing list quantity exceeds 3,000,000. And this quantity represents individuals only … donations from PACs / organizations not included. And this 3,000,000+ quantity has zero dupes. If you're seeking a higher political donors mailing list quantity, then of course you may order more names from our 2019, 2018, 2017, etc political donors email lists – mailing lists. Typically, we recommend just focusing on the most recent general election period as these political donors are the most passionate – motivated.
Political Donors Email List Accuracy: The political donors email list is continually refreshed, thus we confidently guarantee 90+ percent accuracy or money-refund!  When carefully reading the Terms, you will note that the great majority of data sellers offer a so-called "replacement" guarantee … tell-tale sign of low quality … as getting more bad data to replace bad data only makes matters worse. 
Political Donors Marketing List Price:   The political donor email list has a lowest price guarantee!  Find a lower price and DMD will match … PLUS take an additional 10% off the competitive rate.  We only request that competitive political donor marketing list matches our detailed money-refund data quality guarantee. 
Every candidate must buy a mailing list of political donors! Difficult to comprehend but about 98+ percent of voters in any voting district will NOT make a political donation. Yes, only about 2% of voters will make a political contribution. Though representing only a fraction of voters, political donors have an outsize influence on the results … and not just because of money … but more importantly because of their passion – motivation. Political donors are more highly likely to put a sign in their yard, volunteer, make social media posts, talk to friends; bottom-line, political donors play an outsize role the in every political campaign.  Every candidate must invest significant dollars in connecting and communicating with the 2%. And this is one reason we recommend not buying donors from years ago … but rather reserve marketing dollars for connecting donors from the most recent general election … while the passion/motivation is still hot. For this goal we recommend direct mail, email marketing, SMS marketing, and for sure an IP ad campaign.
Create a New Political Donors Mailing List with Cloning: In an effort to find new political donors – we can provide a voter mailing list with a demographic / psychographic profile that is very similar to your current political donors in your campaign district. This custom voter email list / voter mailing list will for sure have a higher donor conversion rate than if you simply mailed all voters. The first step of the of Cloning process is to generate a Profile Analysis of your current donors. Below are just a few highlights of a Donor Profile Analysis that we of Republican donors in S-CA.
*Political Donors Mailing List Profile for Candidate X – 2020 Election:
… a whopping 86% of all donors were in the 56-86 age range
… donors significantly skewed towards the college educated cohort
… donors predominantly married
… majority of donors have resided in their residence for 10+ years
… donors predominantly SFD owners (houses) … very few donors from MFDs
… majority of donors own a house valued at $500,000+
… 12 lifestyle groups were common among the donors
… majority of donors had income of $75,000+
… 65% of donors have a net worth of $1,000,000+
… majority of donors have a luxury car (Make/Model breakouts also available)
… majority of donors residing within 5 neighborhood profiles … out of 50+ profiles
POPULAR 2020 POLITICAL DONORS MAILING LIST SEGMENTS
WINRED
ACTBLUE
BIDEN FOR PRESIDENT
REPUBLICAN NATIONAL COMMITTEE
BERNIE 2020
NRSC
TRUMP MAKE AMERICA GREAT AGAIN COMMITTEE
MAKE AMERICA GREAT AGAIN PAC
STOP REPUBLICANS
DCCC
NRCC
DSCC
JON OSSOFF FOR SENATE
PROGRESSIVE TURNOUT PROJECT
WARREN FOR PRESIDENT, INC.
DNC SERVICES CORP / DEMOCRATIC NATIONAL COMMITTEE
GEORGIANS FOR KELLY LOEFFLER
WIN THE ERA PAC
END CITIZENS UNITED
WARNOCK FOR GEORGIA
JAIME HARRISON FOR US SENATE
PERDUE FOR SENATE
BIDEN VICTORY FUND
NATIONAL DEMOCRATIC TRAINING COMMITTEE PAC
MCSALLY FOR SENATE INC
MARK KELLY FOR SENATE
MCCONNELL SENATE COMMITTEE
CHC BOLD PAC
FRIENDS OF ANDREW YANG
THE LINCOLN PROJECT
DATA AVAILABLE WITH ALL POLITICAL DONORS MARKETING LISTS:
Full Contact Name of Donor: 95% accurate or money-refund
Mailing Address: 95% accurate or money-refund
Email Address: 90+% accurate or money-refund
Mobile Phone: 90+% accurate or money-refund
Demographics: Age, Income, Net Worth, Gender, Race/Ethnicity, and more.