HISPANIC EMAIL LISTS - HISPANIC MAILING LISTS
Hispanic Marketing Lists for Mailing, Email Marketing, Digital Ads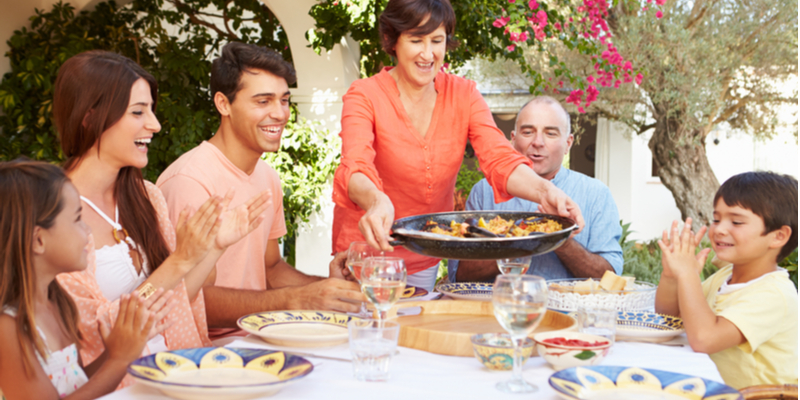 ¡Hablamos Español! Haga clic AQUI.
Largest Database of Hispanic Marketing Leads
Over 24,000,000 Hispanic Households
Over 26,000,000 Hispanic Email Addresses
HISPANIC MARKETING LIST APPLICATIONS
Email Campaign to Hispanic Marketing List: We will email blast your offer to "qualified" Hispanic leads with a guaranteed email open rate (assuming offer/creative is approved). And after the email campaign to Hispanic email list, you have the option of receiving an email list of the Hispanics that Opened your email message … huge benefit since many of the Hispanics that opened your email message can be converted into a customer with a just few more email offers.
Hispanic Email List:   We can also provide the Hispanic email list if you wish to execute and control your own Hispanic email campaign.  And note that our Hispanic email list has a 90+ percent accuracy rate or "money-refund!"  Of course, one major advantage of buying an email list of Hispanics is the unlimited usage benefit … the option to test multiple offers, subject lines, creatives, etc.
Digital Ad Campaign to Hispanic Marketing List: We will serve digital banner ads to qualified Hispanic leads.  When your qualified Hispanic leads are surfing the web from their home network, your ad will appear on many of the websites that the Hispanic leads are viewing.  And to reiterate – the digital ads are only served to Hispanics that exist on your customized Hispanics marketing list. Along with display ad clicks, this low-cost digital campaign is also a sure way to boost direct mail list results and email open rates! 
Facebook Ads to Hispanic Email List:  Along with email marketing – you can use our Hispanic email list to reach the same "qualified" Hispanics on Facebook. We emphasize the "qualified" word because the Facebook platform doesn't offer the extensive array of qualification filters for pinpointing your optimal Hispanic marketing leads.
Hispanic Mailing Lists:  Unlike digital ad mediums (Google ad words, Google Search, Facebook, etc), direct mail offers a guaranteed way to get your brand/offer in front of qualified Hispanic leads.  With direct mail your offer will not have to compete against countless other competitive offers … with direct mail you have the Hispanic's undivided attention.  And unlike the digital route – direct mail guarantees optimal market coverage of the Hispanic market.  And sure, direct mail can be expensive, but if your customers have a large LTV then direct mail will easily provide a multiple ROI.  And to help boost results from your Hispanic mailing list – we can execute multiple digital ad campaigns in conjunction with the direct mail drop … synchronized campaigns will for sure boost your direct mail results.  
The below chart shows why every marketer needs to buy a Hispanic marketing database to reach America's fastest growing ethnic group … today and for the future. And to help you tap this huge market – we offer custom Hispanic marketing lists for Facebook ads, email marketing, Cookie-based ads, direct mail, IP display ads, telemarketing, and more.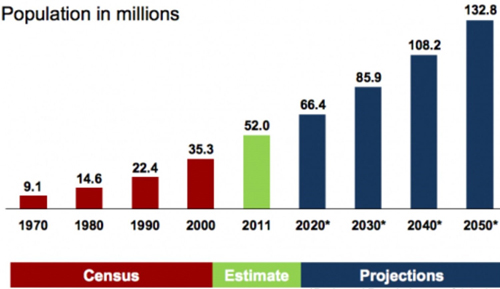 BOOST YOUR REVENUE WITH HISPANIC LEADS:
A recent Pew study shows that Hispanics represent a whopping $1.5 TRILLION in purchasing power. Over 8,000,000 Hispanics own a home valued at $250,000+. And over 3,000,000 Hispanics have over $100,000 in home equity; yes, we can give you the name & addresses of these prosperous Hispanics. 
FILTERS – QUALIFIERS FOR PINPOINTING YOUR BEST HISPANIC LEADS
Exact Age (day/month/year birth data provides option for the popular birthday offers)
Gender
Marital Status
Homeowner vs Renter
Renter Type – Apartment vs MFD
Number of Adults in Household
Number of Children in Household
Education Level
Income
Lifestyle Interests (photography, equestrian, reading, baseball, etc)
CLICK HERE for a listing of other popular filters for segmenting your Hispanic leads. 
HISPANIC EMAIL LISTS:
Digital studies show that Hispanics welcome email promotions more times per month than non-Hispanics, and for this fact every media campaign should include Hispanic email addresses. To help DMDatabases offers the largest database of Hispanic opt-in email addresses … all verified by a minimum of 2+ sources. And if you don't have a current email blasting vendor – note that we can execute your email campaign … and give you a list the Hispanic leads that reacted to your email message. Note that all Hispanic email lists have a 90+ percent accuracy rate or "money-refund." 
HISPANIC FACEBOOK ADS:
Studies show that over 50% of Hispanics are on Facebook, so note that you can use our Hispanic email addresses to reach your leads on Facebook. In fact, you can boost response by running an integrated campaign (email + FB). 
HISPANIC EDUCATION LEADS
Hispanic Teacher Leads: 267,000 Hispanic Teachers … all double source verified!
Hispanic Teacher Email List: Reach Hispanic teachers at their home or school email address.
Schools with High Hispanic Student Population: Selectable by grade level / school type.
College Educated Hispanics: Over 8,000,000 mailing addresses. 
HISPANIC LEADS BY OCCUPATION
Hispanic Dentists: 31,000
Hispanic Doctors: 40,000
Hispanic Drivers: 250,000+
Hispanic Nurses: 400,000+
Hispanic Truck Drivers: 150,000+ 
HISPANIC CHURCH LEADS
Hispanics that love Gospel – Christian Music: 1,000,000+
Hispanic Churches – Predominantly Hispanic: 4,700
Hispanic Church Mailing List: Flat $250
Evangelical Hispanics
Also have option for reaching Hispanic congregation members. 
CUSTOM HISPANIC MAILING LISTS
Elderly Hispanic parent living with their children: Over 4,000,000 mailing addresses
High Net Worth Hispanics: 1,500,000
Hispanic Diabetics: 1,000,000+
Hispanic Military Veterans: 2,000,000+
Hispanic Real Estate Investors: 1,500,000+
Hispanic Seniors: 5,000,000+
Hispanics Living Alone: 6,000,000+
Large Hispanic Families: 2,000,000+
Spanish speaking households: 18,000,000+
Bilingual Hispanic Households
Hispanic households with children: 7,000,000+
Republican Hispanic List: 3,000,000+
Registered Hispanic Voters Email List: Discounted for electoral candidates.