ETHNIC EMAIL LISTS - ETHNIC MARKETING LISTS
Ethnicity Marketing Lists for Mailing, Email Marketing, Digital Ads

WHY USE OUR ETHNIC EMAIL LISTS - ETHNICITY MAILING LISTS?
REASON #1:  THE HIGHEST ETHNICITY MAILING LIST QUANTITY:   From competitive research – we confidently claim that our ethnic mailing list quantities are the highest.  Below is an example for "German" households … "one name" per household. 
Ethnic Mailing List Supplier #1:  9,015,000 

Ethnic Mailing List Supplier #2:  14,215,000

Ethnic Mailing List Supplier #3:  10,971,000

Highest Quantity = DMDatabases:  24,648,000 
REASON #2:  THE BEST ETHNICITY EMAIL LISTS - MAILING LIST QUALITY GUARANTEE: Our ethnic mailing lists have a 95% accuracy guarantee or money-refund.  And our ethnic email addresses are 100% opt-in with 90+% accuracy rate or money-refund. CLICK HERE to review ethnic email list guarantee. 
REASON #3:   EXPEREINCE WITH ETHNICITY MARKETING LISTS:   We have been aggregating and providing ethnic marketing lists for 30+ years. We've seen what works … what doesn't work.  Our knowledge and experience will aid your marketing effort - we will share ideas and list strategies that will help you gain the most from your ethnicity email list.  
REASON #4:   EXTENSIVE ETHNICITY FILTERING - SELECTIVITY OPTIONS:   Our ethnic marketing lists are selectable by an extensive array of filters, for example: exact age, marital status, number of adults in household, number of children in household, income, occupation, lifestyle interests (golf, photography, etc), and so much more.  CLICK HERE to review ethnicity segmentation options.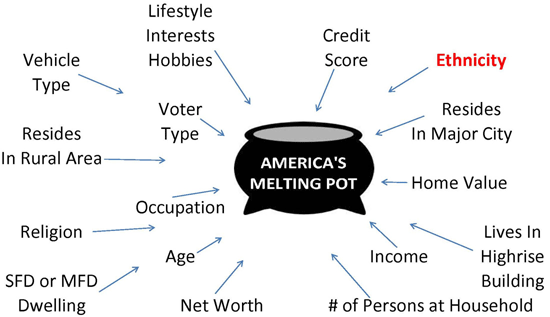 ETHNICITY MARKETING LIST APPLICATIONS
Email Campaign to Ethnicity Marketing Lists: We will email blast your offer to the custom ethnic marketing list with a guaranteed email open rate (assuming offer/creative is approved). And after the email campaign to your ethnic email list, you have the option of receiving an email list of the email recipients that Opened your email message … huge benefit since many of the email leads that opened your email message can be converted into a customer with a just few more email offers.
Ethnicity Email List:   We can also provide the ethnic email list if you wish to execute and control your own email campaign.  And note that our ethnic email lists have a 90+ percent accuracy rate or "money-refund!"  Of course, one major advantage of buying an ethnic email list is the unlimited usage benefit … the option to test multiple offers, subject lines, creatives, etc.
Digital Ad Campaign to Ethnicity Marketing List: We will serve digital banner ads to your qualified ethnic leads.  When your qualified ethnic leads are surfing the web from their home network, your ad will appear on many of the websites that the ethnic leads are viewing.  And to reiterate – the digital ads are only served to the ethnic households that exist on your customized ethnic marketing list. Along with display ad clicks, this low-cost digital campaign is also a sure way to boost direct mail list results and email open rates! 
Facebook Ads to Ethnicity Email List:  Along with email marketing – you can use our ethnic email list to reach the same "qualified" ethnic leads on Facebook. We emphasize the "qualified" word because the Facebook platform doesn't offer the extensive array of qualification filters for pinpointing your optimal ethnic marketing leads.
Ethnicity Mailing Lists:  Unlike digital ad mediums (Google ad words, Google Search, Facebook, etc), direct mail offers a guaranteed way to get your brand/offer in front of qualified ethnic leads.  With direct mail your offer will not have to compete against countless other competitive offers … with direct mail you have the undivided attention of your ethnic leads.  And unlike the digital route – direct mail guarantees optimal market coverage of your ethnic target market.  And sure, direct mail can be expensive, but if your customers have a large LTV then direct mail will easily provide a multiple ROI.  And to help boost results from your ethnicity mailing list – we can execute multiple digital ad campaigns in conjunction with the direct mail drop … synchronized campaigns will for sure boost your direct mail results. 
INCREASE YOUR ETHNIC EMAIL LIST RESPONSE RATES … WITH A PROFILE ANALYSIS
It's likely that 80% of your sales are coming from 20% of the ethnic list market. Who makes up the 20%? We can tell you! First, we'll append demographics and lifestyle data to your email list responders. And from this data append – we'll generate profiles describing your ideal prospect email list. Using the insights from the Profile Analysis will boost your email list response rates.
EXAMPLES OF HOW TO USE DEMOGRAPHIC DATA TO CREATE CUSTOM ETHNIC EMAIL LISTS
Language Preference (i.e., order email list of Spanish speaking households)
Net Worth (i.e., order email list of ethnic households that are ultra wealthy)
Lifestyle (i.e, order email list of avid golfers by ethnicity)
Investor (i.e., order email list of African Americans that have real estate investment property)
Exact Age (i.e., order email list of Hispanic seniors that are turning 65 next month)
Seniors List (i.e., order email list of Asian households where elderly parent is living with children)
Occupation (i.e., order email list of Mexican truck drivers)
Business Owner (order email list of Indian Business Owners)
Frequent Mail Order Buyers
RELIGIOUS AFFILIATION EMAIL LIST
*Households by Religious affiliation is another way to reach certain ethnic households.
Buddhist
Catholic
Eastern Orthodox
Greek Orthodox
Islamic – Muslim
Jewish
Shinto
Mormon
Lutheran
Sikh
NEW CUSTOM ETHNIC EMAIL LIST
ETHNIC EMAIL LIST OF BRAZILIANS – "IN BRAZIL"
This unique consumer mailing list consist of Brazilians … "in Brazil." Marketers are beginning to realize that Brazil represents a huge market of buyers. Currently Brazil has the 7th largest economy … larger than Italy, India, Canada, and Australia. This very unique email list provides the opportunity to tap into the growing buying power developing in Brazil. Brazilians have money to spend! This a perfect email list for generating real estate leads … since Brazilians represent a significant number of real estate buyers in Miami, New York, and other hot spots in the US.
*Email list of business owners … in Brazil … also available.
AVAILABLE ETHNIC MAILING LIST / ETHNICITY EMAIL LISTS
01 AFGHANI
02 AFR-AMER/DUTCH SURNAMES
07 AFR-AMER/ENGLISH SURNAMES
12 AFR-AMER/FRENCH SURNAMES
17 AFR-AMER/IRISH SURNAMES
22 AFR-AMER/ISLAMIC SURNAMES
27 AFR-AMER/SCOTCH SURNAMES
32 AFR-AMER/WELSH SURNAMES
37 ALBANIAN
38 ALEUT (NATIVE AMERICAN)
39 ALGERIAN
40 ANGOLA
41 ARABIC SURNAMES
42 ARMENIAN
43 ASHANTI
44 AUSTRIAN
45 AZERBEJANIAN
46 BAHRAIN
47 BASOTHO
48 BASQUE
49 BELGIAN (FLEMISH & WALLOON)
50 BENGALI
51 BENIN
52 BERUNDI
53 BHUTANESE
54 BOSNIAN MUSLIM
55 BOTSWANIAN
55 BRAZILIAN
56 BULGARIAN
57 BURKINA FASO
58 BYELORUS
59 CAMEROON
60 CENTRAL AFRICAN REPUBLIC
61 CHAD
62 CHECHNIAN
63 CHINESE
64 COMOROS ISLAND
65 CONGO
66 CROATIAN
67 CZECH
68 DANISH
69 DJIBOUTI
70 DUTCH
71 EGYPTIAN
72 ENGLISH (BRITISH)
73 EQUATORIAL GUINEA
74 ESTONIAN
75 ETHIOPIAN
76 FIJI
77 FILIPINO
78 FINN
79 FRENCH
80 GABON
81 GAMBIAN
82 GEORGIAN
83 GERMAN
84 GHANA
85 GREEK
86 GUINEA-BISSEA
87 GUYANA
88 HAUSA
89 HAWAIIAN
90 HINDU
91 HISPANIC
92 HUNGARIAN
93 ICELANDIC
94 INDIA
95 INDONESIA
96 IRAQI
97 IRISH
98 ITALIAN
99 IVORY COAST
100 JAPANESE
101 JEWISH HEBREW LANGUAGE NAMES
102 KENYA
103 KHAZAKSTANI
104 KHMER (CAMBODIAN)
105 KIRGHIZSTAN
106 KOREAN
107 KURDISH
108 KUWAITI
109 LAOTIAN
110 LATVIAN
111 LESOTHO
112 LIBERIAN
113 LIBYAN
114 LITHUANIAN
115 MACEDONIAN
116 MADAGASCAR
117 MALAWI
118 MALAY
119 MALI
120 MANX
121 MAURITANIA
122 MISC. SOUTH AFRICAN GROUPS
123 MISC. SOUTH EAST ASIAN
124 MOLDAVIAN
125 MONGOLIAN
126 MOROCCAN
127 MOZAMBIQUE
128 MULTI-ETHNIC
129 MYANAMAR (BURMA)
130 NAMIBIAN
131 NATIVE AMERICAN
132 NEPAL
133 NIGER
134 NIGERIAN
135 NORWEGIAN
136 OTHER SUDANESE
137 OVERT EUROPEAN JEWISH NAMES
138 PAKISTANI
139 PAPUA NEW GUINEA
140 PERSIAN (IRANIAN)
141 POLISH
142 PORTUGUESE
143 QATAR
144 ROMANIAN
145 RUANDAN
146 RUSSIAN
147 SAUDI
148 SCOTTISH
149 SENEGALESE
150 SERBIAN
151 SIERRA LEONE
152 SLOVAK
153 SLOVENIAN
154 SOMALIA
155 SRI LANKAN (CEYLON)
156 SURINAM
157 SWAHILI
158 SWAZILAND
159 SWEDISH
160 SWISS
161 SYRIAN
162 TAJIKSTAN
163 TANZANIAN
164 THAI
165 TIBETAN
166 TOGO
167 TONGA
168 TUNISIAN
169 TURKISH
170 TURKMENISTAN
171 UGANDAN
172 UKRAINIAN
173 UNCODEABLE
174 UNIQUELY AFRICAN AMERICAN
175 UNKNOWN
176 UZBEK
177 VIETNAMESE
178 WELSH
179 WESTERN SAMOA
180 XHOSA
181 YEMENI
182 ZAIRE
183 ZAMBIA
184 ZIMBABWE
185 ZULU