NURSES EMAIL LISTS
Nurses Marketing List for Direct Mail, Email Marketing, Digital Ads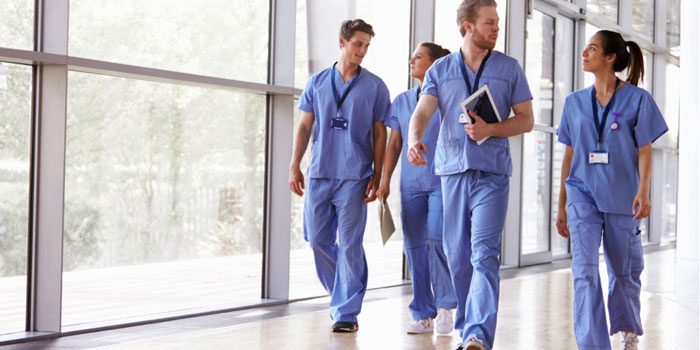 For 30+ years DMD has offered the largest Nurse Email List … aggregated from an extensive number of public & private sources. The Nurse Database is packed with filters to help pinpoint your best nurse leads. Plus, we can help you reach nurses at their home address, hospital address, medical office address, or non-related medical establishments, such as nurses that work at nursing homes.
NURSE MARKETING LIST APPLICATIONS
Email Campaign to Nurse Marketing List: We will email blast your offer to "qualified" nurse leads with a guaranteed email open rate (assuming offer/creative is approved). 
Nurses Email List: We can also provide the nurse email list if you wish to execute and control your own nurse email campaign. And note that our nurses email list has a 90+ percent accuracy rate or "money-refund!" 
Digital Ad Campaign to Nurse Marketing List: We will serve digital banner ads to the nurses mobile devices.  
Facebook Ads to Qualified Nurse Leads: Along with email marketing – you can use our nurses email list to reach the same "qualified" nurses on Facebook. We emphasize the "qualified" word because the Facebook platform doesn't offer the extensive array of qualification filters for pinpointing your optimal nurse leads.
Nurse Mailing List: Unlike digital ad mediums (Google ad words, Google Search, Facebook, etc), direct mail offers a guaranteed way to get your brand/offer in front of qualified nurse leads. With direct mail your offer will not have to compete against countless other competitive offers … with direct mail you have the nurse's undivided attention. Sure, direct mail can be expensive, but if your customers have a large LTV then direct mail will easily provide a multiple ROI. 
NURSE MARKETING LIST PRICING
Nurse Direct Mail Leads: 2 to 9 cents per name
Nurse Email Leads: 9 cents per when combined with a nurse mailing list purchase
Nurse Digital Ad Campaign: 1 to 4 cents per ad impression
NURSE MAILING LISTS – AT COMMERCIAL/BUSINESS ADDRESS
Nurses employed at medical offices: 41,000
Nurses employed at nursing facility: 7,100
Nurses employed at hospitals: 4,700
Nurses employed at non-medical related establishments: 16,500
Nurses employed at colleges: 1,500
Nurses employed at K-12 schools: 12,100
Physician Assistants: over 52,000
Nursing Director: 25,600
Chief Nursing Officer: 2,661
Director of Patient Care / Nursing: 1,430
Nurse Manager: 2,880
Nursing Supervisor: 1,700
*Direct mail address and telemarketing data at place of employment.
NURSE EDUCATORS MAILING LIST / EMAIL LIST
Deans of Nursing Colleges: 581
Chairperson at Nursing Colleges: 1,300
Nursing Professors at Senior Colleges: 41,000
Nursing Professors at Junior Colleges: 23,500
Nursing Professors at Canadian Colleges: 2,900
Clinical Nursing Professors: 5,400
Maternity Nursing Professors: 1,500
Surgical Nursing Professors: 2,100
Pediatric Nursing Professors: 1,400
Pharmacology Nursing Professors: 2,100
*over 43,000 nurse educator email addresses
NURSE MARKETING LIST BY LICENSE TYPE
Registered Nurse - RN
Licensed Practical Nurse - LPN
Certified Nursing Assistant - CNA
NURSE LEADS BY NURSE DEMOGRAPHICS
Age
Income
Gender
State License Information
License Type (RN, LPN, etc.)
NURSE LEADS BY PRACTICE SETTING
Administration
Clinic
Community Health/Health Dept
Consultant
Corrections/Prison
Dentist Office-CRNA
Education/Instruction/Academic
Emergency Room/Hospital Critical Care-CRNA
Extended Care Facility
Free-Standing Surgical Centers-CRNA
MO Staff
Home Health
Hospice
Hospital Clinics
Hospital-Based
Locum Tenens/Consultant-CRNA
Managed Care
Mental Health Center
Military/VA
New License/Student
Nursing Home/Staff
Obstetrical Delivery Room-CRNA
Occupational Health
Office Practice
Ophthalmologist Office-CRNA
Other
Outpatient Surgical Centers-CRNA
Pain Management Clinics
Pharmacy/Retail Clinics
Plastic Surgeon's Office-CRNA
Private Duty
Public Health Services-CRNA
Rehabilitation
School/College
Solo Practice/Self-employed
Stand-Alone Clinics
Transplant
NURSE MARKETING LISTS BY SPECIALTY
Acute Care Medicine
Addiction Medicine
Adult Medicine
Adult Medicine (Young Adult)
Allergy
Allergy Immunology (Asthma)
Ambulatory Care
Anesthesiology
Burn Care
Cardiology
Cardiothoracic Surgery
Correctional/Prison Medicine
Critical Care Medicine/Acute Care
Dermatology
Diabetes
Ear/Nose/Throat/Otolaryngology
Emergency Medicine
Endocrinology
Family Medicine
Gastroenterology
General Surgery
Geriatric Medicine
Gynecological Oncology
Hepatology
HIV or AIDS
Holistic Health/Nutrition/Vitamins
Infectious Disease
Internal Medicine
Long Term Care
Neonatal/Perinatal Medicine
Nephrology
Neurology
Obstetrics/Gynecology
Occupational Health
Oncology/Hematology
Operating Room
Ophthalmology
Orthopedic Surgery
Orthopedics
Pain Management
Pediatrics
Plastic Surgery
Primary Care
Psychiatry
Pulmonary Disease
Radiology
Rehabilitation Medicine
Reproductive Medicine
Rheumatology
Rural/Community/Home Health
School/College Health
Sports Medicine
Transplant Surgery
Trauma Surgery
Urgent Care Medicine
Urology
Women's Health
---
NURSE EMAIL LIST – PERSONAL EMAIL ADDRESS
All nurse email addresses are opt-in, and represent the home / personal email address. The nurse email list comes with a 90+ percent delivery guarantee … or money refund! Direct mail addresses automatically included with the nurse email list. Like the direct mail list, the nurse email list is selectable by demographics (age, gender, income, marital status, and more).