MILLENNIALS EMAIL LIST – MAILING LIST
Millennial Marketing List for Direct Mail, Email Marketing, Digital Ads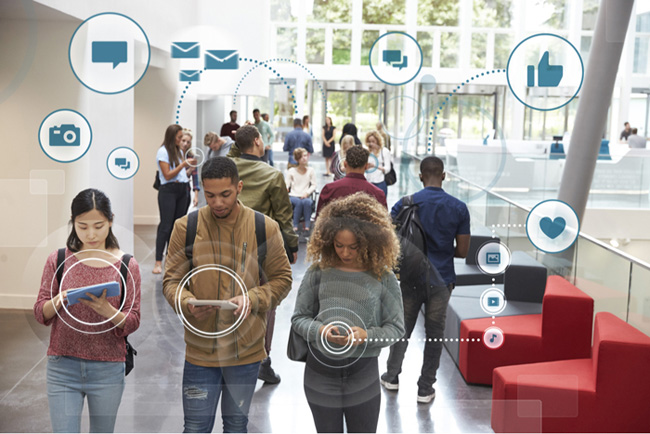 MILLENNIALS EMAIL LIST - MARKETING LISTS PRICING
Millennial Direct Mail Leads: 2 to 9 cents per name
Millennial Phone Leads: 2 cents per when combined with a millennial direct mail list order
Millennial Email Leads: 9 cents per when combined with a millennial direct mail list order
---
WHO? Millennials (also called Generation Y, Generation Me, Echo Boomers) are the generational cohort born roughly between 1980-2000. Per below time chart – millennials are unique as they are the first generation that grew up immersed in the digital revolution.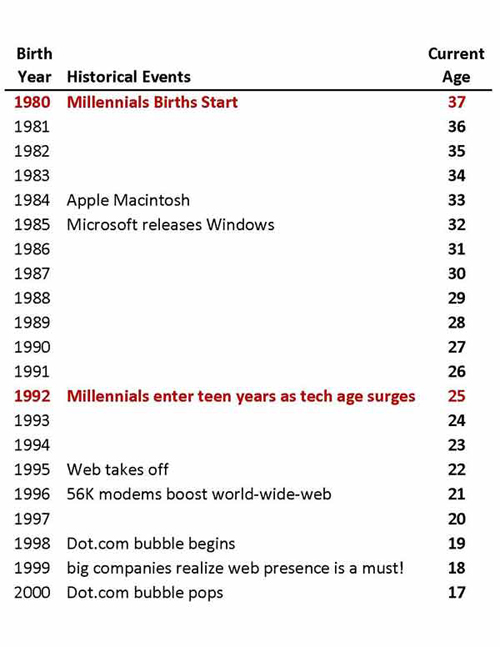 WHY BUY A MILLENNIALS MARKETING LIST?  Marketers must find a way to market to millennials since millennials represent the largest generation in American history … over 80,000,000. Millennials represent the largest share of America's workforce. Millennials will dominate many industries … just as Baby Boomers did for 30+ years. Soon, Millennials will represent over 40% of all American voters. Millennials are the most educated generation, the most … nomadic, tech savvy, civic oriented, non-religious, diverse, frugal, socially conscious, liberal, entrepreneurial. Millennial shoppers spend over $600 billion each year, and by 2020 that amount is expected to grow to $1.4 trillion. Bottom-line, if you've a product/service to sell – then millennials are your buyers … either now or in the future!
---
HOW CAN WE HELP?
OPTIMAL COVERAGE – THE MOST MILLENNIAL EMAIL LEADS: Due to our extensive compilation sources … 30+ years of data networking … we offer THE highest number of Millennial email addresses – Millennial direct mail addresses.
MARKETING TIPS FOR REACHING MILLENNIALS: We have hundreds of customers that are marketing to millennials, and from this experience we have insights for customizing a millennial email list and/or millennial direct mail list.
It's counter-intuitive but multiple surveys show that millennials prefer direct mail over email marketing or social media advertising. Why? Maybe it's because the average millennial spends majority of the day consuming digital media, so direct mail represents something different and exciting.
Sure… direct mail has a higher cost than some digital channels, BUT direct mail also has a higher response rate— up to 5.3% versus a high of 0.9% for digital. Thus in the end direct mail is cheaper … when factoring in the higher response/purchase rate.
UNIQUE MILLENNIAL MAILING LISTS –MILLENNIALS EMAIL LISTS
Millennials that live with parents
Millennials that live in rural areas
Millennials that live in major American cities
Millennials by occupation
Millennial hybrid – electric car owners
Millennial car owners
Millennial RV owners
Millennial Homeowners
Millennial Renters
Millennial Condo Owners
Millennial real estate investors
Millennials by lifestyle interests (golf, woodworking,tech, etc.)
Millennial households with children
Millennials in Republican leaning districts
Millennials in Democratic leaning districts
Republican Millennials – Democratic Millennials
MILLENNIALS HOME BUYERS EMAIL LIST
In 2016 the US home ownership rate was about 62% … the lowest in 50 years. But now Millennials home buyers are pushing homeownership rates to new highs … approaching 65%. Millennials that rent are beginning to favor homeownership. Source: WSJ, Jan 30, 2018.
–Millennials that rent: 21,000,000
Millennial Renter Email Leads: 11,500,000
*You may qualify Millennial renter leads via modeled FICO, income, exact age, marital status, and much more.