PPP BUSINESS EMAIL LEADS
PPP Loan Holders Business Email List
PPP LOAN LEADS – PPP LOAN MARKETING DATABASE OVERVIEW:  The PPP (Paycheck Protection Program) loan list has a whopping 5,000,000+ businesses!  And these 5,000,000+ business leads are unique because they have sufficient financial data, history, AND employees to qualify for a PPP loan.  Note that there are over 15,000,000 business in the US though the great majority could not qualify for a PPP loan as many don't have employees OR are simply companies on paper.  Bottom-line, these 5,000,000+ business leads are real active businesses that are ready to invest when the right opportunity arises … ready to buy when the right product/service provides a ROI.
PPP BUSINESS MARKETING LEADS – DATA ENHANCEMENT: The PPP loan database is directly from the SBA, though note that the PPP loan list does not include any pertinent data … such as key contact name, phone#, firmographics (# of employees, sales volume, etc). To create viable business leads the PPP list was matched against DMDatabases Premier B2B Database … the largest database of US businesses.
PPP BUSINESS LEADS WILL INCLUDE FOLLOWING DATA:
Full Name of Key Decision Maker (Owner, President, etc) … 95% accurate or "money-refund".
Email Address of Key Decision Maker … 90+ percent accurate or "money-refund"
Company Name … 95% accurate or "money-refund".
Full Mailing Address … 95% accurate or "money-refund".
*additional data available with fee.
PPP BUSINESS EMAIL LEADS – FIRMOGRAPHIC FILTERS
PPP loan leads are selectable by business type and loan amount … at no charge.
For additional fee PPP loan leads are also selectable by number of employees, years-in-business, annual sales volume, operation from residential address or commercial address, veteran owned, female/minority owned, with or without website.
PPP BUSINESS LEADS SNAPSHOT – BY LOAN AMOUNT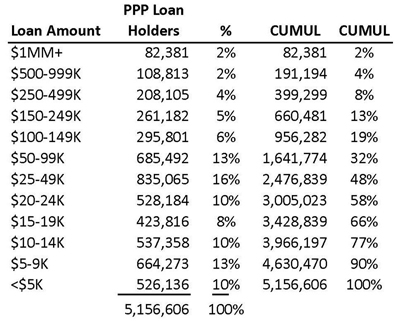 PPP BUSINESS LEADS – MINIMUM ORDER REQUIREMENTS
PPP Loan Holders Mailing List:  $450 Minimum Order Requirement
PPP Loan Holders Email List:  $1100 Minimum Order Requirement
EXPERIENCE FOR OPTIMIZING YOUR PPP BUSINESS LEADS:   DMDatabases is not one of those new companies frequently popping-up on the Internet, but rather DMDatabases has been aggregating data for 30+ years.  Our long and deep experience with B2B data allows us to curate optimal and accurate B2B databases by niche aggregating, merging/purging, cross-verifying, enhancing, dupe-eliminating, segmenting, re-verifying, and refining many other steps in the B2B leads development process.