MARKETING LIST OF EMPLOYEES AT SPECIFIC COMPANIES
Reach Employees of Specific Companies

Names on this marketing list consist of upper-income employees at America's leading companies. And best of all this custom marketing list is at the home address … personal email address … thus no worry with corporate gatekeepers blocking your message … a huge benefit for job recruiters. While the job title is not available, one can infer much by place of employment … such as education level, income, professionalism, and so much more. This custom business mailing list also works well for high price luxury offers … as employees at many of these fast-growing companies are reaping big bonuses and stock option valuations … meaning luxury real estate buyers, luxury product buyers, luxury travel buyers, luxury car buyers, and more.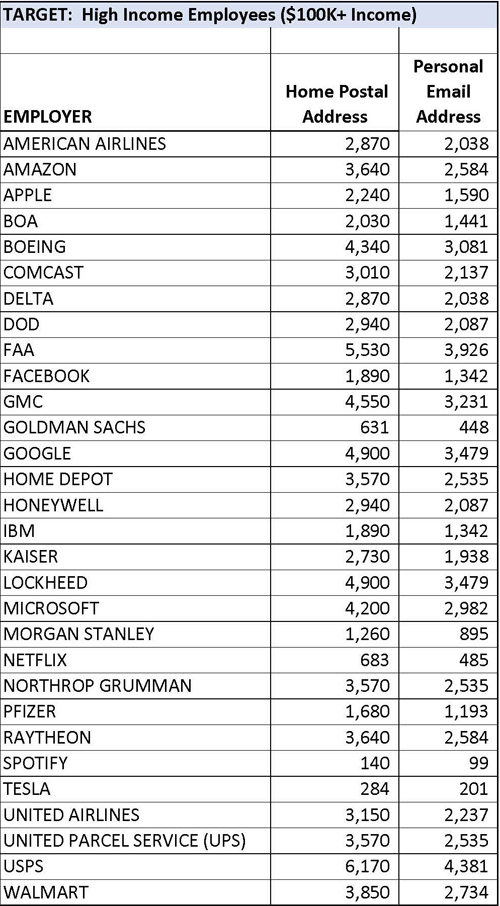 *The above quantities are growing for this new business list as we continue the data aggregation process.
REACH EXECUTIVES BY JOB TITLE:   If you wish to target employees by job title, then you'll need to use our Executive Job Title Database … which consist of 100,000,000 executives (yes 100 million executives) … at business address.  This business list includes postal data, phone data, and executive email address … along with a plethora of firmographics if you wish to target by firmographics instead of company name.  Just let us know the job titles and company names that you wish to target – and we can quickly create your custom business mailing list … or business email list.